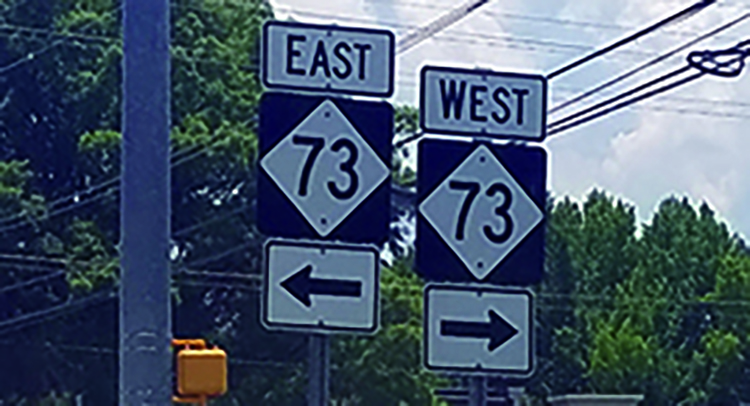 By Dave Vieser.  Development along ​Hwy. 73 near Beatties Ford Road is stuck in the slow lane ​awaiting ​a decision on the​ ​preferred ​path for widening the​ key east-west connector.
​The road—much of it two lanes—supports commerce and commuters from Lincolnton to Huntersville to Concord and points east.​ The ​NC​DOT and local towns have talked about widening Hwy​.​ 73 and creating a major east-west thoroughfare from Concord to Lincoln County for ​more than two decades.
​Meanwhile, land along the route is poised for development.​
"As a regional artery, crossing several major highways, Hwy 73 is a fantastic flex space corridor," said Lisa Dula, a veteran commercial real estate broker in Lake Norman.
She expects to see local and regional flex space development proposals once the planning is completed and right of way acquisition begins.
The NCDOT has combined what originally were seven separate widening projects from Hwy. 16 in Lincoln County to US 29 in Cabarrus County into one major project, at an estimated total cost of $343 million.
The work would include either widening the bridge over the Catawba River or building a second parallel bridge.
"Developers have been wisely waiting for the talk to end and the road improvements to begin," Dula says.
​But i​t may be a while before a final route is known.​ Preliminary design ​should be completed within a matter of weeks, according to Wilson Stroud, the DOT's Project Manager.
​Next up are public meetings to show the proposed improvements as well as anticipated right of way and easement impacts."
Stroud says the final project design will not likely begin until early next year, with right of way acquisition in 2020, and construction ​not beginning until 2022.
The Beatties Ford Road intersection is especially complex, with several large parcels nearby ripe for development. Before that happens, traffic officials from the town and the state must agree on the new shape for the intersection.
According to the ​NC​DOT, ​Hwy. 73 widening won't be completed until three​ or​ four years after construction begins, which would mean the widening would not be completed until 2025-2026.
​Dula forecasts new development at major intersections, with ​Class B space​ following "to support the residential that has been built in the past two decades and continues to grow.​"