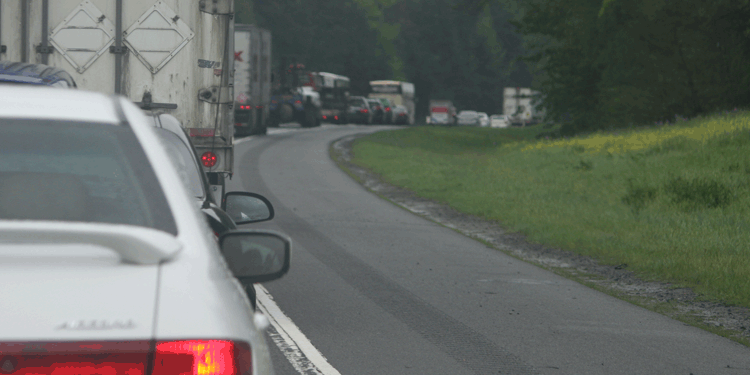 OPINION. By Mike Russell. We use I-77 through Lake Norman as a local road. When it was built 40 years ago that may not have been the original intent, but with part of US 21 under Lake Norman and NC 115 constricted through downtown Davidson, it is an inescapable reality.  For local businesses I-77 is the lifeline that brings customers.
For many businesses, that lifeline is under threat. Cintra, a private company, has been granted the exclusive right to collect tolls for 50 years in exchange for building private toll lanes on I-77.  The toll rates will vary based on congestion in the general purpose lanes. The tolling business model is based on the premise that a few drivers will pay to avoid congestion, and the worse the congestion gets the more those drivers are willing to pay.  So, contrary to ads you may have heard on the radio or received in the mail, the private toll lanes will not relieve congestion in the general purpose lanes; they'll ensure it.
During the recent exit 28 construction in Cornelius, we learned firsthand that when an area becomes congested it is diminished as a destination. Local businesses suffered greatly because customers avoided the massive traffic jams. That could happen on a regional scale with the private toll lanes.
To make matters worse, the current plan has no direct toll lane access points for the major commercial exits- 23, 25, 28, and exit 30. Instead, the toll lanes are designed to get the Lake Norman commuter into uptown Charlotte, period. It ignores our use as a local road.  This is the same guiding principle being used to design the widening of West Catawba Ave between Jetton Rd and highway 73 with the super street concept.
I-77 serves another important function: It connects Charlotte and Charleston to the industrial Midwest. It is a heavy freight corridor. In fact, according to a recent study by the John Locke foundation I-77 has the highest number of trucks per lane of any of North Carolina's interstates. But trucks will be prohibited from using the toll lanes. Instead they will be trapped in ever-worsening congestion. If trucks cannot move, neither can commerce.
This situation will worsen because Charlotte—with the nation's sixth busiest airport and a new $90 million intermodal freight facility—is poised to become a logistics hub. The intermodal facility is expected to generate $9 billion in economic activity over the next twenty years.  I-77 should play a key role in this coming economic boom but with trucks idling in I-77 traffic, it becomes unlikely. Instead those companies could locate elsewhere, such as our neighbor South Carolina.
I hear many in government say this is a done deal. It's true the contract has been signed, financing is in place and construction is set to begin in earnest next Spring.  However, the state can still cancel the contract. This would require the taxpayer to compensate Cintra for the "fair market value" of the project. I strongly believe a project that few people want, had only a single bidder, and was rejected by the Town of Cornelius (with Davidson and Huntersville asking for delays) and Mecklenburg county as well as the Lake Norman Chamber of Commerce, it is worth zero. That's exactly what we should pay to get out of this deal.
To echo the appeal of business owners and citizens at a CRTPO meeting; cancel the contract, add the widening of I77 from exit 19 to exit 36 with general purpose lanes to the TIP and score it.  It's never too late to do the right thing.
—Mike Russell
Mike Russell is the  2015 Board Chair of the Lake Norman Chamber of Commerce. The Chamber, with approximately 1,000 members, serves the Huntersville, Davidson, Cornelius, and greater Lake Norman region business community.