The S&P/Case Shiller Home Price Index rose .72 percent nationwide, which is great news, but the news from Charlotte is even better. Reflecting deals that closed in March, the Charlotte index of prices rose .87 percent. The Case Shiller index measures the value of residential real estate in 20 major U.S. metropolitan areas, from Atlanta to Washington, D.C. Charlotte real estate continues to benefit from in-migration and a tight supply.
Year over year, prices were up 5.2 percent nationwide in March.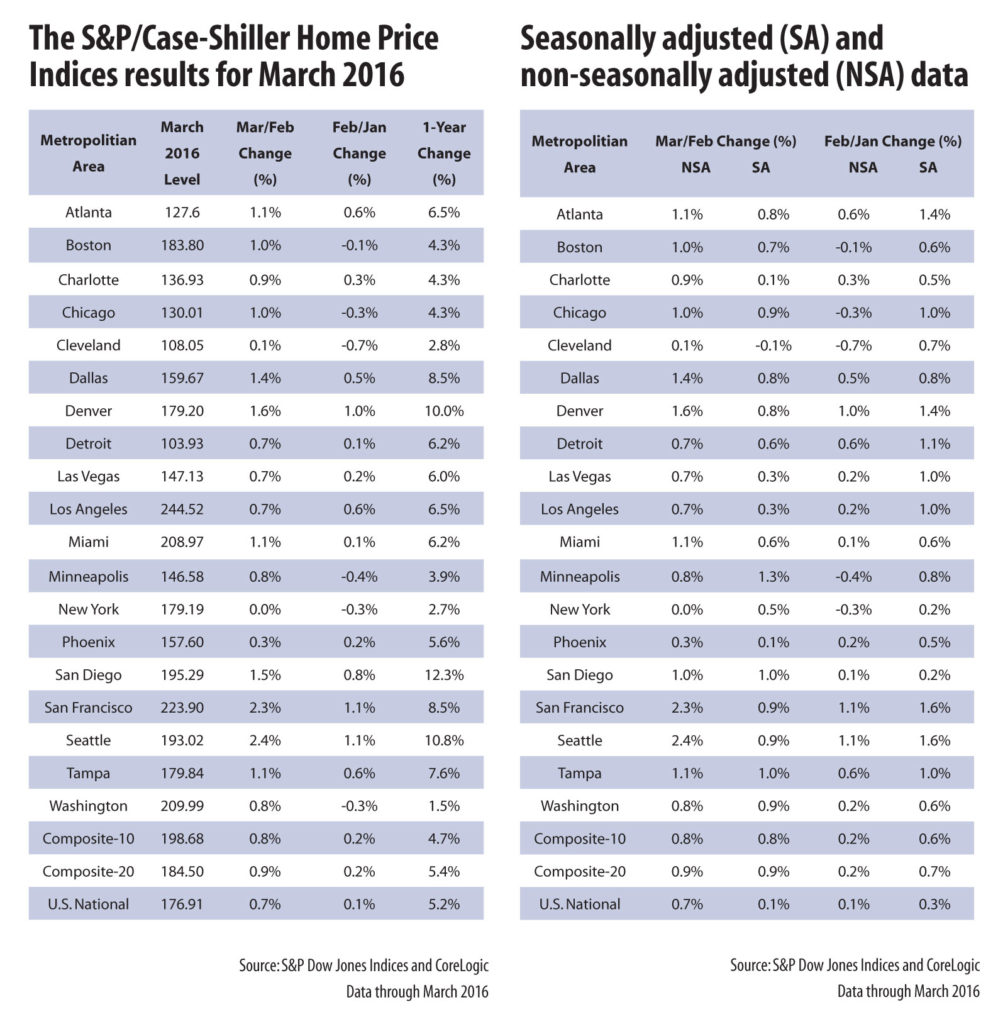 Portland led the way with a 12.3% year-over-year price increase, followed by Seattle with 10.8%, and Denver with a 10.0% increase. Charlotte was in the bottom half of the pack, with a 4.3 percent increase, but Charlotte has always been known as the Steady Eddie in the national residential real estate market. At the bottom of the pack were Chicago and Washington, D.C., with year over year gains of 1.9 percent and 1.5 percent, respectively.
Measured from the market peak in the summer of 2006 peaks, prices are down 10.5-12.5 percent, depending on the city. Since the bottom in 2012, prices are up 35 percent to 37 percent.
Meanwhile, there's a shortage of homes for sale nationally and locally. "The number of homes currently on the market is less than 2 percent of the number of households, the lowest percentage since the mid-1980s," said David M. Blitzer, a managing director at S&P Dow Jones.
It's an interesting market for executive level and luxury homes. Under $1 million is hot, under $500,000 even hotter. Over $1 million, there is more inventory and it will take more patience to sell.
"We continue to experience the same problem we've had for the past several years and that is lack of inventory and lack of good marketable inventory in acceptable price ranges," said Neal Crites owner of Crites Properties in Cornelius. "Buyer's today expect the best of the best and these are homes that are quickly snatched up at good selling prices. This is why sellers must make all attempts to get it right the first time."
In Cornelius
A 7,527 square foot house at 22531 Torrence Chapel Road  has sold for $1.7 million after being listed at $1.795 million by Jennifer Stewart with Allen Tate Co. The lakefront house, which has a salt water pool, a home theater and a 1,400 bottle wine cellar, is assessed at $1.6 million. The selling agent was Gretel Howell, Allen Tate Company
In Mooresville
A 4,476 squarefoot house with a deeded boatslip and a chef's kitchen has sold for $1 million after being listed at $1.08 million by Jodie Widaseck of Trump International Realty. The house, at 104 Barnstable Court, has a tax value of $1 million. Edward Steve Perry of Re/Max Executive Realty represented the buyers. The listing said a minimum Social Membership to Trump National was required.