With home prices continuing to climb, millennials and even older adults are going further afield for better deals on homes—and mansions.
Cheaper prices in the exurbs, where homes are more than 16 miles from central business districts, are motivating buyers to drive till they find what suits their pocketbooks.
Relatively low gas prices are helping the trend along nationwide.
The housing market hit an all-time high in prices in 2018, according to the National Association of Realtors. As a result, millennials are waiting to buy homes because it's taking longer to save for down payments.
Indeed, Charlotte prices are up 4.2 percent year over year, according to S&P CoreLogic Case-Shiller. The national average was only 4 percent—an unusual instance where Charlotte price increases are outpacing the nation as a whole.
Fannie Mae loan data reveals that more retirees and Millennials alike purchased new homes located an average of 16 miles from central business areas last year – the greatest distance since 2004.
Prices in the exurbs can be a whole 'nother thing compared to Uptown, where a penthouse condo can run well into the millions of dollars.
In Cabarrus, you get a mansion for $1.5 million. Matt Sarver with The Sarver Group at Keller Williams, has listed a 10,800 square foot home on two acres at 6826 Highgrove for $1.575 million.
That's $145 a square foot. "If you are looking for a nice quiet area, a spacious home with property at a great value, then Cabarrus County has what you are looking for," Sarver said.
The National Association of Home Builders says single-family construction in exurban areas rose 7 percent from last year, compared with just a 3 percent rise nationwide.
Diane Honeycutt, the founder of Team Honeycutt at Allen Tate in Concord, has listed a spectacular 9,490 square foot house on Arbor Commons for $2.075 million. It's been on the market about a year, and the price has been cut once.
She says Cabarrus County continues to strengthen its luxury market since the market rebound in 2012.
"Although it is certainly a very small percentage of our over all market, we have several very nice luxury communities as well as country estates on acreage," she says.
Confidence in the market among luxury buyers is strong in our area and showing activity is steady.
There are only three homes on the market over $1.5 million in Cabarrus, "so our inventory is not on overload," she says.
Hot Property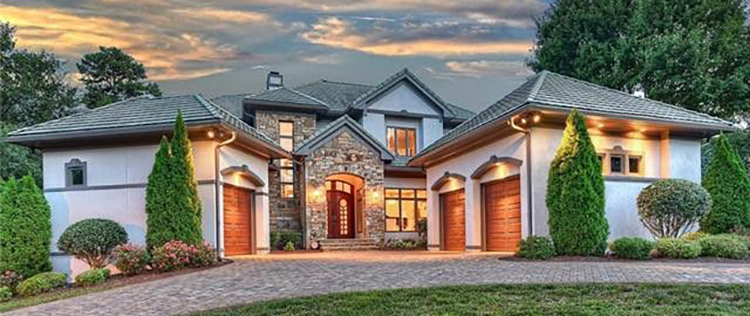 Asked $2.5 million, and they got $2.3 million: This 6,000 square foot lakefront home at 18218 Harbor Light Blvd. in The Peninsula was listed by Lori Jackson of Ivester Jackson. Debbie Monroe of Lake Norman Realty brought the buyers.