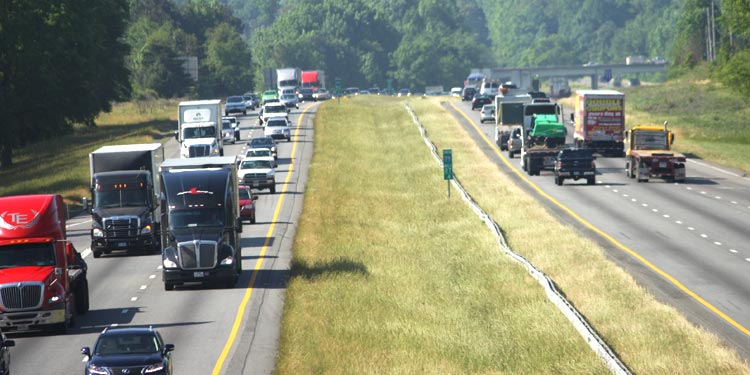 By Kurt Naas. Now that local governments and businesses have lined up against the I-77 toll lanes, the North Carolina Department of Transportation (NCDOT) has been offering up three more rationales why they must move forward with this project.
First, we've been told it's "tolls or nothing for 20 years."  That may have been true in 2011, but in 2013 North Carolina passed the Strategic Transportation Initiative with the objective of removing (as much as possible) the politics from transportation funding.
We have always maintained an I-77 general purpose lane project scored on objective criteria would rank high enough to be funded by its merits. Last summer the NCDOT scored four such hypothetical projects.  If those projects were in the transportation plan today they would outscore 25 projects that are currently receiving funding within the next 3-10 years.  The situation has changed but the reasoning has not.
Second, NCDOT states if they cancelled the contract the taxpayer could incur a $100 million penalty. They have yet to release any analyses supporting that claim. However, assuming that number is correct even with the penalty it actually costs the taxpayer less to cancel the contract and build general purpose lanes.  For the private toll lane project taxpayers will be ponying up over $240 million in construction costs and toll subsidies compared to approximately $220 million for a focused general purpose lane project plus the penalty. That does not include $13 billion in projected toll revenues that will be siphoned out of our local economy over the 50 years.
Third, they note the regional planning organization (Charlotte Regional Transportation Planning Organization or CRTPO) approved the tolling project unanimously.  Indeed, in May of 2013 CRTPO did just that.  A couple of weeks ago, at their May 2015 meeting, CRTPO could have joined all of the Lake Norman towns in calling for a pause to review the tolling contract.  They did not.
That non-decision was due to the voting structure of CRTPO. Every town sends delegates- but their votes are weighted by population. Charlotte's vote, in the person of Councilwoman Vi Lyles, counts for 46% of the vote.  Charlotte needs one other delegate to comprise a majority. In this government structure delegates' first concern is appeasing Charlotte; constituent's concerns are secondary. Lyles served on the Committee of 21, a Charlotte-centric organization that advocated tolling back in 2009. Her position has not evolved despite today's dramatically different situation.
We now have the specter of a $5 billion government agency holding 150,000 residents hostage by the single vote of a person who neither represents them nor lives in the area, and last addressed the topic in earnest six years ago.
That is not democracy; it is tyranny.
— Kurt Naas is the founder and spokesman for Widen I-77. He is also vice president of Aline Corp., Concord.
---
By Nick Tennyson. The I-77 corridor from Mooresville to Charlotte is among the most congested areas in the state. Whether traveling during the morning drive or evening rush hour, motorists in and around this growing region are familiar with that daily gridlock.
Recently, NCDOT has been called upon to cancel the contract for the I-77 Express Lanes project, a project designed to provide long-term relief to that chronic congestion. While we respect and appreciate the many voices and opinions of this project, it's important that we address some of those concerns and also look ahead to the opportunity to provide a long-term congestion management solution for this area.
Simply put, the I-77 Express Lanes project is not NCDOT's project to cancel. This express lanes project was studied by, requested by and unanimously approved by the local planning organization (CRTPO formerly MUMPO). The planning organization continues to support the express lanes project today, and NCDOT is moving forward with construction from the planning organization's directive.
Like the CRTPO, NCDOT believes this project is the best option for increased mobility and more reliable travel time within the I-77 corridor from Mooresville to Charlotte. At this time, the I-77 Express Lanes project is the only long-term traffic management solution guaranteed to be built – and that project will be delivered and operational in roughly three years. Express lanes give motorists a choice: They can choose to remain in the general-purpose lanes for free, choose to carpool with three or more people in the vehicle to use the express lanes at no additional charge, or choose to pay the fee to use the express lanes and travel at least 45 mph.
Despite the increased number of options provided to motorists, some people continue to advocate for contract cancellation so that the state can pursue widening the road with general-purpose lanes. Canceling this project, however, does not automatically convert work to general-purpose lane construction. Under state law, any new project would have to be submitted through the data-driven scoring process that occurs every two years, called the Strategic Mobility Formula. Projects must rank high enough against other projects statewide in order to be eligible for funding. There is no guarantee that any future general-purpose lanes project would be funded through that process.
Additionally, widening I-77 with general-purpose lanes is only a temporary solution to congestion within the corridor. As the region continues to grow, those new general-purpose lanes would soon be clogged once again. The express lanes project and the public-private partnership with I-77 Mobility Partners will provide a long-term congestion solution that will provide reliable travel time for many years to come.
Finally, the project provides the opportunity for a multi-million dollar investment into the I-77 north region. Under the agreement NCDOT is investing $95 million directly into the I-77 Express Lanes project, and an additional $145 million in other transportation projects for a total $240 million investment in the region.
The I-77 Express Lanes Project will provide long-awaited infrastructure improvements to the I-77 corridor. NCDOT looks forward to providing those improvements to the citizens of this region.
— Nick Tennyson is Chief Deputy Secretary for NCDOT