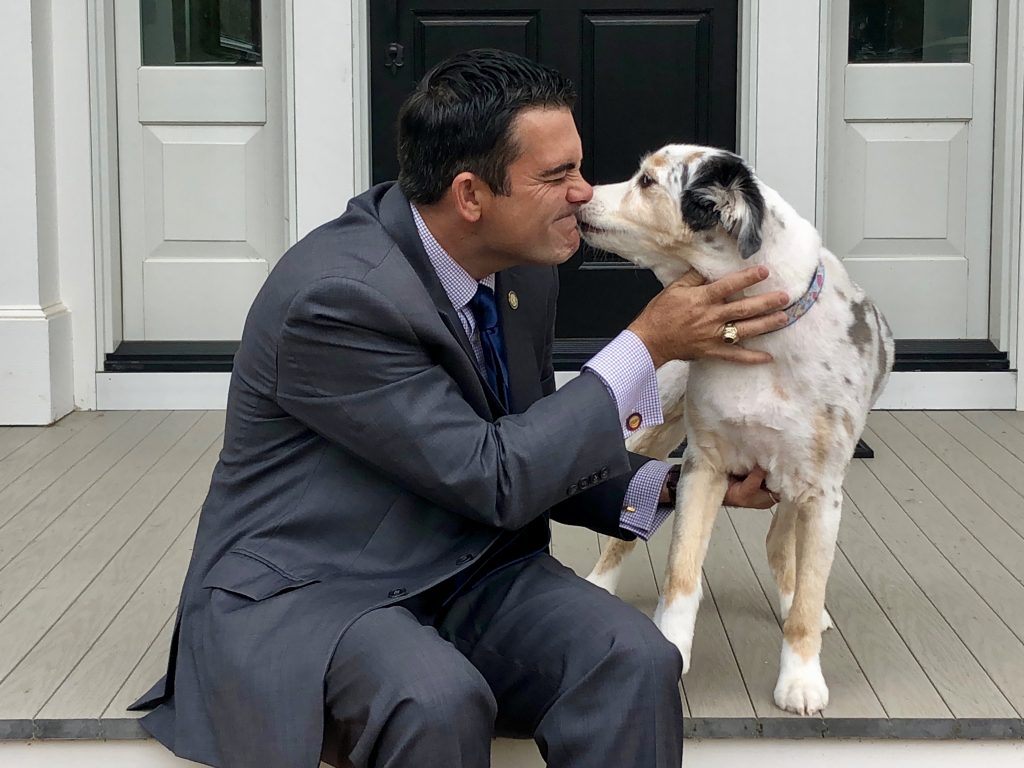 By David Friedman. Growing up in Summerville, S.C., N.C. Rep. John Bradford had an entrepreneurial spirit. He partnered with his cousin Howard on H&J Workshop in middle school, making country crafts, signs and bird houses. They could turn three or four bucks of supplies into $25 pieces for craft shows and flea markets. Though creating products and businesses has taken a back seat to his work as a state legislator the last several years, Bradford's entrepreneurial mind is always in gear.
He founded Park Avenue Properties after stints at IBM and ExxonMobil. His newest venture, PetScreening.com may change the way pet owners rent property. Whether it be off-campus college housing, vacation rentals, or a primary residence, the two-way street of landlords and tenants often clash over animals.
Bradford launched PetScreening.com with a $250,000 capital investment.
For renters, there is a $20 charge for the first animal, and $15 for each additional pet. There's no charge for service animals—or landlords and property managers.
Bradford's Cornelius-based business is on track to register 30,000 pets over the next 12 months.
The business may be in the right place at the right time as Millennials postpone purchasing homes, and America's love affair with pets continues.
PetScreening.com adds a layer of third-party liability protection for landlords and provides a pathway to report pet bites and property damage incidents. Pet owners receive a 12-month software license to use their pet profile in other ways such as with pet groomers, pet walkers, campgrounds and pet daycare.
"I'm a pet lover but I also know as a landlord that people and pets create problems," said Bradford. "We do lots of checking on people, but know little about their animals."
While credit and background checks are common before leasing property, not all animals are created equally. Bradford's site has vetted animals in 45 states and for more than 350,000 rental units.
The total staff is seven people, including Bradford.
At PetScreening.com, after spending 10 or 15 minutes entering data on your animal, customers receive a FIDO score.
The information requested includes photos of the animal, vaccination records, data on behaviors and habits, age, size, breed, name of vet and frequency in which you see the doctor. The site also asks if you walk your dog on a leash or not, whether you pick up waste, if your animal has any history of altercations or biting, and lots of other information that helps determine how likely an animal is to cause problems to property or inconvenience neighbors.
Bradford says property owners and managers are motivated to have prospective tenants sign up at PetScreening because they get valuable information, and it doesn't cost them anything.
Then, too, they are better able to evaluate whether a tenant is a good fit for their location, and if an issue pops up after a renter has moved in, they have documentation for what the animal was supposed to be like.
The profiles are active for a year and can be used in different ways, whether it be for property rental, camp grounds, or data for a groomer.
"We're opening eyes and changing minds on breeds," said Bradford. "Large dogs can be better for property owners than small. We allow for a full evaluation of the animal and their owner."
In addition to creating tangible data on pets, the site can also help landlords ensure that service and emotional support animal requests are legitimate. When an accommodation animal request is made, there is no charge, and only the limited allowable legal questions are asked.
An attorney looks over the application and documents provided to either approve it, or issue a red flag.
Having a third party verify assistance animals can be very important for landlords who don't want to spend the time and resources to determine whether a renter legitimately needs the animal or not. Avoiding difficult conversations and potentially toeing the legal line is a major benefit to business owners.
"Not everyone who says they have an assistance animal actually has a need," said Bradford. "The housing industry is afraid to ask. There is a fear factor. This helps property managers of all kind."

At PetScreening.com, only about 15 percent of requests are for service animals. Though hiring attorneys for verifications on animals that do not produce revenue is a loss, any company that uses the site is required to funnel all animal requests, pet and service, to the site.
Bradford has found that an added benefit of the site is a new openness for landlords to accept pets. For years, college housing was a no-animal business. With the rise of assistance animals, whether legitimate or not, suddenly Fido and Fifi were in the house.
With a risk algorithm available, more properties are accepting animals. In some cases landlords are able to charge more for tenants with pets.
Though years have passed, the basic principles of Bradford's woodworking venture were similar to his latest project: Recognize a need, put in the work, and find people who want his product.
He still has the H&J Workshop sign hanging in his garage in Cornelius. His family of six humans and two animals has a budding entrepreneur in it too. Oldest son Jack, 15, has been known to dress up in a suit and present PetScreening.com demos.
Like father like son.