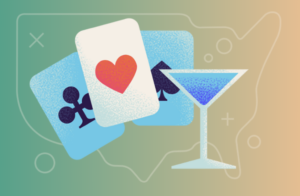 Feb. 14. Every state has virtues and vices, and vices can be especially destructive when people's wallets are already stretched thin by high inflation.
Harmful behavior on the individual level can result in staggering economic costs, considering that gambling addiction costs the U.S. $5 billion per year and smoking costs dwarf that with over $300 billion per year, according to personal finance website WalletHub.
In light of these statistics, the personal-finance website WalletHub released its report on 2023's Most Sinful States.
South Carolina made the Top 10 at No. 9, while NC came at 12.
To determine where the U.S. has the most moral growing to do, WalletHub compared the 50 states based on seven sinful behaviors: anger and hatred, jealousy, excesses and vices, greed, lust, vanity and laziness.
The top most sinful: Nevada, California, Louisiana, Florida, Pennsylvania, Texas, Tennessee, Illinois, South Carolina and New York.
The 10 least sinful: Maine, Nebraska, Utah, South Dakota, Connecticut, Iowa, Vermont, New Hampshire, Idaho and Wyoming.
Key stats
—West Virginia has the worst drug problem, and Nevada is the most gambling-addicted.
—Maine has the lowest violent crime rate, 1.09, which is 7.7 times lower than in Alaska, the state with the highest at 8.38.
—Massachusetts has the fewest thefts (per 1,000 residents), 10.97, which is 2.7 times fewer than in Louisiana, the state with the most at 29.65.
—Colorado has the lowest share of obese adults, 25.00 percent, which is 1.6 times lower than in West Virginia, the state with the highest at 40.70 percent.
—Utah has the lowest share of adult smokers, 7.20 percent, which is 3.3 times lower than in West Virginia, the state with the highest at 23.60 percent.
—Alaska has the fewest beauty salons (per square root of population), 0.146874, which is 10.3 times fewer than in New York, the state with the most at 1.512170.