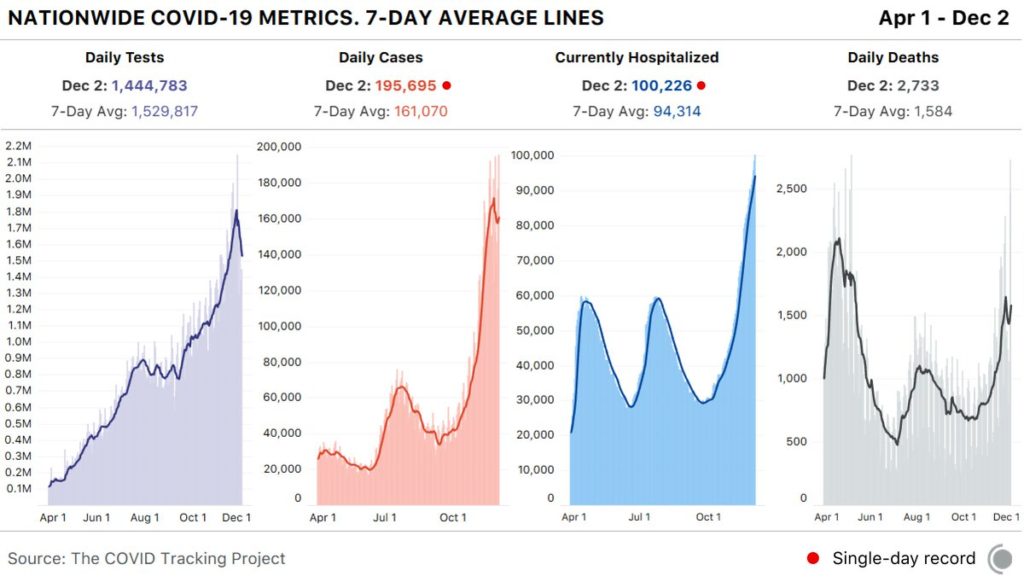 Dec. 3. Kaufman, Hall & Associates, a top financial and performance consulting company in the world of foundational institutions like hospitals, says hospital margins have been down consistently year-to-date.
"October's downturn likely will continue as COVID rates rise throughout the fall and winter," even with two vaccines on the horizon, according to Kaufman, Hall. Meanwhile, COVID-related hospitalizations have doubled, according to the COVID Tracking Project.
One thing that's happening is that stricter preventive measures are causing many people to delay non-urgent procedures and outpatient care.
"The result will exacerbate volume declines and could further destabilize hospitals financially, with a potential return to the significant losses seen in March and April," Kaufman, Hall said in their November Flash Report.
There seem to be four main reasons some people are canceling or postponing doctors' appointments—or not making them in the first place. Novant Health debunks them here:
1. Worries about COVID-19 safety. "Screening and cleaning" is Novant Health's mantra now. Doctors' offices look completely different from they did before COVID-19. Chairs are spaced apart in the waiting room to allow for social distancing. If a phone or video visit is feasible, that's the first thing you'll be offered. Health care workers are on the front lines of this fight, and they want to minimize their contact with others as much as possible.
2. Worries that emergency rooms, hospitals and clinics are filled with COVID-19 patients. Novant says they're not. Concern that an ER waiting room is going to be crowded with COVID-19 patients is not accurate. ERs have been transformed for the age of COVID-19. Many have separate waiting areas for COVID-19 patients and separate treatment rooms.
3. Worries about cost. Novant has financial navigators to help you estimate the cost of your care for a procedure or hospital stay. In the Carolinas call 336-277-7299 (or toll-free 1-888-277-3901), Monday through Friday from 8 am to 6 pm. They can help with a payment plan, including screening uninsured patients for eligibility in state and federal programs, such as Medicaid. T
4. Worries about COVID-19 swabs. Some patients have put off important procedures because they didn't want have the nasopharyngeal swab, which involves using a long, thin swab inside the nose to collect test material. "The good news is that in some cases, a much shallower swab, called a nasal swab, is used. There are no guarantees which swab will be used at any patient's test. But regardless, it's not worth putting off care you need to avoid a few seconds of discomfort," Novant said.
However, Congress' failure to pass another stimulus package is problematic for the hospital business as well as other industries.
"The coming months will be critical for our nation's hospitals, with the virus expected to continue its rapid spread as families gather for the holidays, and activities move increasingly indoors with the onset of colder weather across much of the country," Kaufman, Hall said.
Longer term more positive
Meanwhile, Moody's Investor Service has changed its for-profit hospital outlook to stable from negative, based on the new vaccines. "Improving business conditions will boost earnings growth over the next 12-18 months, with patient numbers growing more steadily and profits continuing to benefit from pandemic-related government aid even as unusually high levels of acuity begin to moderate, cost pressures rise and high unemployment adversely affects the payer mix," Moody's said.