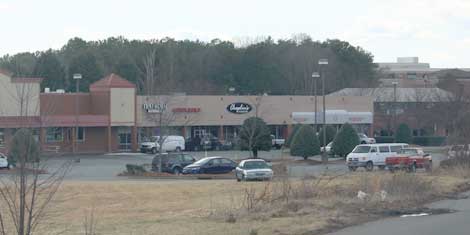 By Dave Vieser. Although a healthy number of express bus riders live in Cornelius, the town has never had a park and ride facility within its borders where riders can leave their autos and access CATS Express Buses. That may be about to change, according to officials from both the town and the Charlotte Area Transit System.
"CATS is working on developing a Park and Ride lot in the vicinity of the former Bi-Lo's Shopping Center," said Assistant Town Manager Andrew Grant. CATS spokeswoman Krystel Green confirmed Grant's comments. "Yes, we're in the planning stages of developing a park and ride lot in Cornelius" she told Business Today. "At the moment, we're doing some real estate analysis to determine the proper location for that facility."
The largely unused parking area northeast of the shopping center which once housed Bi-Lo's and more recently a Salvation Army store, would appear to be an ideal spot. It has easy and quick access to both West Catawba Avenue and I-77. Such a location would be a big relief for Cornelius bus riders who currently must drive nearly five miles south to Huntersville for the closest Park and Ride Facility.
It could also breathe new life into the shopping center, which is largely vacant.
But pressure to build such a station may have actually lessened during the past two years as ridership on the I-77 Express Bus Route has actually declined.
"Some of our express routes have seen a decline in ridership, most likely due to lower gas prices," Green said. "The price of fuel seems to affect express ridership more than local ridership, which has actually increased."
Annual ridership on the 77x Express Route that services Cornelius and Davidson, as well as Huntersville, has declined over the past year from 192,343 to 178,557 passengers. At the same time, overall CATS bus ridership increased during the same time, primarily due to strong ridership on local routes, the introduction of new services and increased ridership on the light rail system.
In June 2014 CATS introduced a new express service from Northlake Mall directly to the airport.  That service has carried 28,783 riders in the last six months.  Although it travels I-485, it serves the Northlake area located near I-77.  Also, CATS is in the planning stages of a route adjustment that would extend Route 53X-Northlake to Highland Creek, using a portion of I-77 and spanning both Mecklenburg and Cabarrus counties.
The wild cards for the future are the planned toll lanes on I-77. While it's too soon for specifics, some route changes are likely in order for the express buses to traverse the express lanes on the interstate while also accessing the proper exits for park and ride facilities.