SEPT. 13. By Dave Yochum. Updated Friday 11 am. You don't build a church for Easter Sunday. That's the analogy Tom Kloza used to describe the normally adequate gasoline supply system that provides fuel from distribution centers in Greensboro and Charlotte to thousands of gas stations in and around the Golden Crescent.
Panic buying is marked by a rapid increase in purchase volume, reducing supply and creating higher demand. Conversely, panic selling results in increased supply and a lower price.
Kloza—the fuel whisperer—knows a thing or two about fuel and how it flows around the world.
He is the global head of energy analysis at OPIS (Oil Price Information Service), the news and information Bible in the wholesale fuels industry.
In an exclusive interview with Business Today, he said just like you don't build a church for Easter Sunday, you don't build a distribution system for everyone topping off their tank.
The region's supply is suddenly rolling around on Hondas and Fords, not staged in a fuel terminal for overnight delivery in tanker truck.
Of course, the greatest risk for consumers is losing power for three days—or a week or more—and you can't pump gas without electricity. Florida and New Jersey require on-site generators; North Carolina doesn't.
There are no refineries nearby that could shut down because of flooding or massive storm damage.
"People just feel this need to fill up if they don't have topped-off tanks," Kloza says.
"A typical gas station might sell 3,000 gallons a day, so it doesn't take many customers for them to run out."
Do anti-gouging laws help? Maybe, maybe not.
When Gov. Roy Cooper declared a state of emergency as Hurricane Florence bore down on the coast, North Carolina's anti-gouging laws went into effect. NC Attorney General Josh Stein notified businesses and consumers today to be on the lookout for price gouging.
"My office is here to protect North Carolinians from scams and frauds," Stein said. "That is true all the time – but especially during severe weather. It is against the law to charge an excessive price during a state of emergency. If you see a business taking advantage of this storm, either before or after it hits, please let my office know so we can hold them accountable."
North Carolina has a strong statute against price gouging which went into effect for the entire state Sept. 7. It will be lifted when the state of emergency is lifted.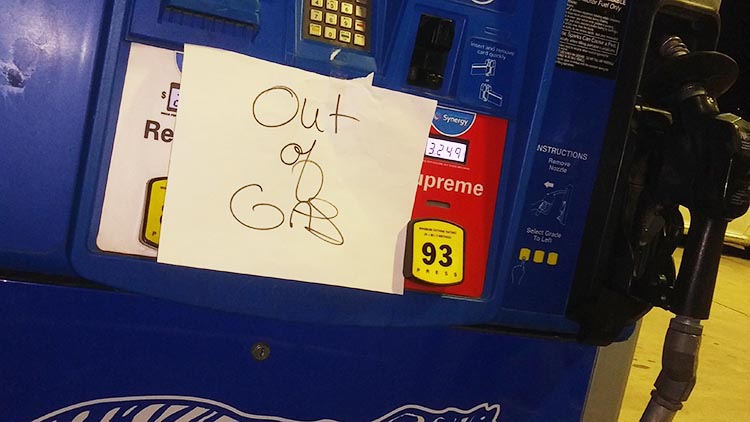 Thing is, anti-gouging laws can actually shut down the mechanism that efficiently manages supply. Low prices remove incentives to think twice about topping off the gas tank.
Some suppliers have raised per-gallon prices 30 cents, one operator said.
"It's not a shortage of gasoline, it's a dislocation and panic behavior," Kloza says.
*This story has been updated. Information about Motiva terminals provided to Business Today was incorrect. It has been deleted.