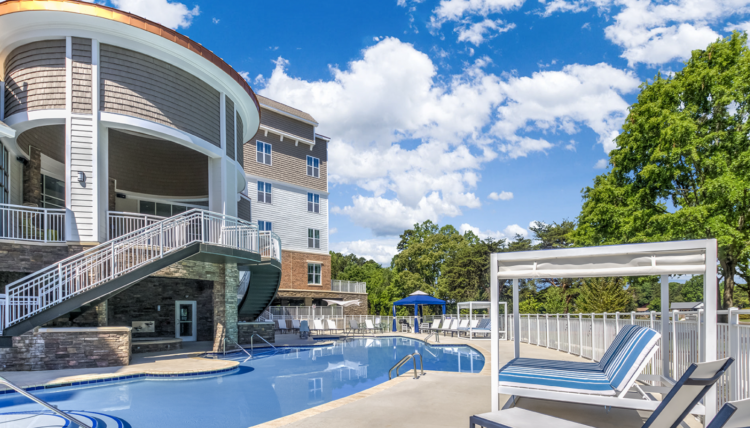 Jan. 13. By Dave Yochum. A lakefront apartment complex in Mooresville has changed hands for more than $100 million in a deal worth more than $400,000 per unit.
The Osprey, a 288-unit complex, was sold to a unit of New York Life for $116 million, according to Iredell County real estate records.
Sellers
The seller was The Langtree Group, the original developers of Langtree.
The complex, located off Alcove Road north of Langtree Road, was started in December of 2020 and completed in June last year. Units range in size from 768 square feet to 1,429 square feet. It was refinanced last year with an $80 million debt package, according to the Commercial Observer.
Amenities galore
The property has 2,500 feet of lake frontage, a lakeside pool and a rooftop terrace as well as kayaks and paddle-boards for rent.
Market outlook
Nationally, the high-end rental market is strong as many buyers are priced out of the market due to tight inventory.
According to Yahoo Finance, the average apartment renter is now earning $70,000 a year, and wages of renters are rising.
Combine that with more buyers shut out of the home purchase market, and the vacancy rate will not be falling any time soon.
"Now what's happening, obviously, is older millennials who are ready to buy a house, obviously, they're going to be staying put a little bit longer in rentals when they can't find a house to buy," Jay Parsons, RealPage VP and head of Economics & Industry Principals, said in a Yahoo Finance video conference.