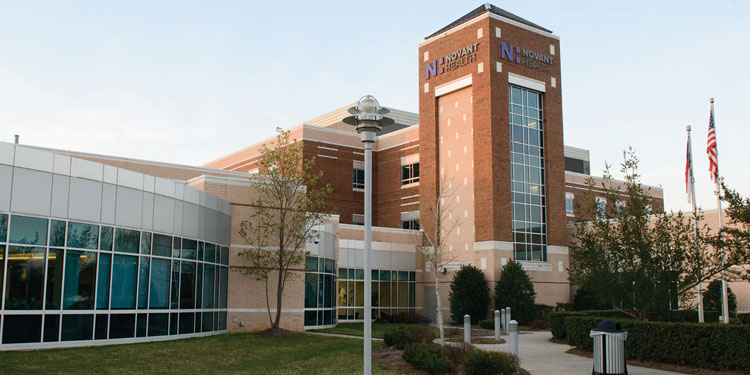 April 6. Novant Health reported net income of $412.8 million on operating revenue of $4.34 billion for the full year last year. The not-for-profit health system also reported a community benefit of $725.5 million, including $122 million of financial assistance to the uninsured and people in need.
In 2015 operating income was $258.4 million.
Fiscal year 2016, net income was comprised of $258.8 million of operating income, $2.9 million of other (non-operating) income, and investment income of $151.1 million. With strong financial results, Novant Health voluntarily paid down about $350 million of debt and paid team members more than $83 million in bonus income. All team members received a discretionary financial bonus in 2016.
In 2015, investment losses amounted to $60 million.
For the year 2015, Carolinas HealthCare System reported total enterprise revenue of $9 billion.
Carl S. Armato, president and CEO of Novant, said the organization made significant investments in people as the health care industry continues to struggle with provider and nurse shortages across the country, as well as an ever-changing environment.
"In 2016, Novant Health invested heavily in our team members. Novant Health is committed to being world-class at caring for our people so they can be world-class at caring for our patients," Armato said. "In addition to paying every team member a bonus, we also expanded our unique wellness and resiliency program for physicians by offering it to our nurses as well. To date, more than 700 providers and 350 nurses renewed their commitment to medicine through this dedicated effort to improve resiliency and address provider burnout. Our goal is that every nurse will participate in this program."
Net income, of course, provides a cushion for challenges in the healthcare arena, regardless of whether it is a non-profit.
"For years, Novant Health has been taking cost out of its operations while paying down debt and managing a healthy balance sheet," said CFO Fred Hargett. "As the industry continues to be pressured, Novant Health has managed itself responsibly to prepare for the uncertainty of the future, but also to invest smartly in our people and our communities to ensure we are able to provide the care our communities deserve."
Community benefits
As a not-for-profit health care system, Novant Health provides community benefit programs in alignment with the needs of surrounding communities. Included are unreimbursed health services to individuals with Medicaid and Medicare coverage; community health education; support groups; partnerships with other organizations to provide outreach services; community events and screenings; and participation in medical research and academic health programs.
For example, in 2016, Charlotte-area pediatric providers from Novant Health provided state-required health assessments to hundreds of children at high-poverty schools. Additionally, preventive care and vaccines were delivered to vulnerable children via the Community Care Cruiser.
Also, in Winston-Salem, more than 4,000 women were screened for high cholesterol, blood glucose, blood pressure and other health measures in partnership with the American Heart Association.
Unreimbursed costs
In 2016, the unreimbursed costs to provide health care services to Medicare and Medicaid patients were $400.7 million and $110.0 million, respectively. And as with the previous years since the enactment of the Affordable Care Act, Novant Health continued to see a slight reduction in uninsured patients. Bad debt, which is not included in community benefit reporting, was $204.5 million.
Outpatient visits continued to grow as patients increasingly seek to proactively manage their health. Physician visits were up 6.8 percent from 2015, and inpatient visits were flat.
Reducing costs, improving safety
In 2016, collaboration with independent physicians through the launch of the Novant Health Clinically Integrated Network and the Cigna Collaborative Care program helped Novant Health continue its commitment to delivering high-quality and affordable care. Key contributors to success included placing patients at the center of care, emphasizing preventive care in its clinics, taking a team-based approach and coordinating care for patients.
These partnerships also allowed Novant Health to establish clinical pathways and protocols, identify those at highest risk for hospital readmissions, and determine the most efficient way to deliver high-quality, affordable patient care. For Cigna's more than 60,000 North Carolina customers, Novant Health was able to reduce emergency room (ER) visits by 16 percent over the past year – a welcome cost-savings for patients, for whom the ER is often not the best option for nonemergency medical needs. Novant Health extended office hours, accelerated patient education and partnered with hospitals to get quality health care to patients so that they did not need to visit an ER.
New care-coordination efforts also helped Novant Health improve quality. Patients who have been discharged from the hospital after treatment are vulnerable to suffering another health crisis. In 2016, Novant Health piloted a program among team members and their dependents it insures to prevent such events. The organization targeted outreach and high-touch health care planning for patients at the highest risk for readmission to the hospital. As a result, 30-day readmission rates fell from 13.6 percent in January 2015 to 4.5 percent in December 2016.
Capital investments
In June 2016, Novant Health converted Novant Health UVA Health System Haymarket Medical Center and Novant Health UVA Health System Prince William Medical Center from paper-based records to electronic health records (EHR) – completing the multiyear, $600 million project. Novant Health also achieved a significant milestone when it became the first health system to be revalidated for the Health Information and Management Systems Society (HIMSS) Analytics Stage 7 Ambulatory Award for use of an EHR.
Capital investments in 2016 totaled $288.3 million. Significant construction projects included breaking ground for a new medical center in Mint Hill, North Carolina (scheduled to open in early 2018), finalizing a new bed tower at Novant Health Clemmons Medical Center (opening in 2017), building a new orthopedic hospital in Charlotte, and improving facilities at Novant Health UVA Health System Prince William Medical Center in Virginia.