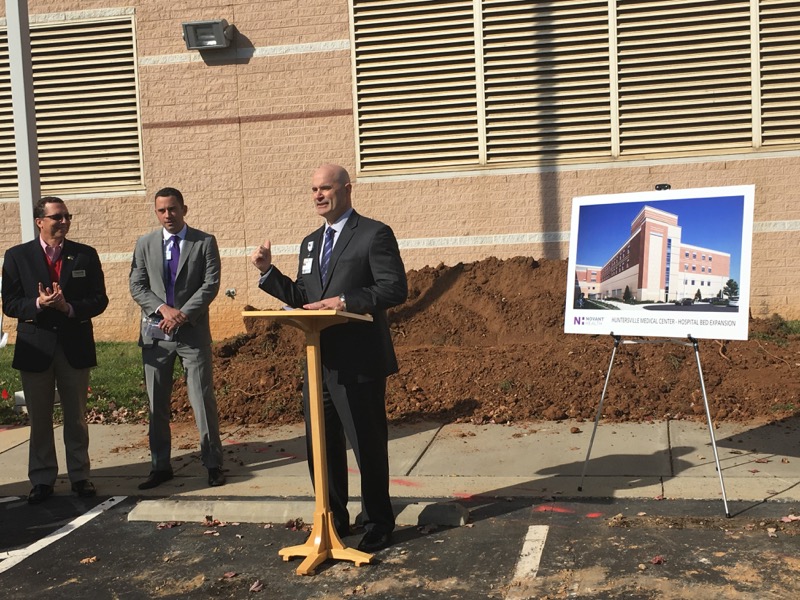 Dec. 4. By Dave Yochum. Fast growth around Lake Norman is one of the driving forces behind Novant Health Huntersville Medical Center adding 50,000 square feet and 48 new patient beds to the 13-year-old community hospital.
The $50 million expansion, which includes a 20,000 square foot renovation, will transform the facility into a 139-bed hospital that is "prepared to meet the healthcare needs of one of the fastest-growing communities in the Charlotte area," according to Mike Riley, president.
Literally hundreds of people are moving to the Charlotte area every day. When Novant fought to open Huntersville 15-some years ago, patients in Huntersville and Cornelius had to choose between Lake Norman Regional in Mooresville and hospitals in Charlotte. Since then, I-77 has become virtually impassable during parts of the day.
Riley said the Lake Norman area is above the national average in income and education levels, which means more people have more access to health services.
"Growth in the area is also well above the national average. This has been both a challenge and a blessing. It has been challenging in that the hospital is frequently at or near capacity. It has been a blessing in that it has fueled our rapid growth and current expansion," Riley said.
The hospital has expanded several times over the years including a two-floor vertical expansion in 2012 that added 15 new beds, and the transfer of 16 beds from Novant Health Presbyterian Medical Center to Huntersville in 2014.
The hospital, which has 91 beds now, will gain 44 acute care beds, two ICU beds and two beds in neonatal care as well as a new operating room for a total of six.
The anticipated completion date for the expansion is spring 2019. Vannoy Construction is the general contractor and McCulloch England Associates Architects is the architect.
Riley is one of the top executives in the healthcare industry in Charlotte. He says maintaining a culture of safety and quality while "creating a remarkable patient experience" is one of the big challenges.
Indeed, the hospital industry is increasingly competitive, in part because of declining reimbursements, higher pay for skilled medical staff and the cost of new technology. At least 25 states have seen at least one rural hospital close since 2010, most of them in the South, according to the North Carolina Rural Health Research Program.
Thirteen hospitals in Texas have closed since 2010, the most of any state.
Closures have been ticking up since the recession of 2008-2009, according to the Sheps Center for Health Services Research at the University of North Carolina.
There are likely multiple contributing factors, including failure to recover from the recession, population demographic trends, increased rates of merger and affiliation, decreased demand for inpatient services and new models of care.
The impact of Obamacare—and changes in Medicaid—put hospital management in a league with rocket science.
"I think everybody is confused about where Obamacare will go at this point," Riley said. "We are not making any major strategic or policy changes based on what we think might happen. We believe that as long as we are doing the right thing for the patient everything else will work out."
Nursing turnover at Novant Huntersville is relatively low compared to other hospitals In the state and the national average, Riley said.
"Younger people today don't stay in jobs as long as they used to. They are frequently looking at other options. One of the benefits of a nursing career is that there are many different career paths and specialties. One of our core values is personal excellence and we work hard to grow our team members. Because of this, we want them to grow and become the best they can be at their current job and or be prepared for the next level opportunity," he said.