Anna Messick is the new director of business development at Piedmont HealthCare in Statesville. In addition to being responsible for provider, practice and organizational growth, she will support physician outreach and recruiting, on-boarding and communications.
She has 15 years' experience in marketing and public relations at Davis Regional Medical Center in Statesville where she was responsible for physician outreach and growth-related initiatives. She has a degree in marketing from Clemson University.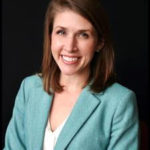 "We are thrilled to have Anna join our organization. Her passion for growth, healthcare and community involvement are the ideal fit for the Piedmont HealthCare team," said Jeff Smith, CEO.