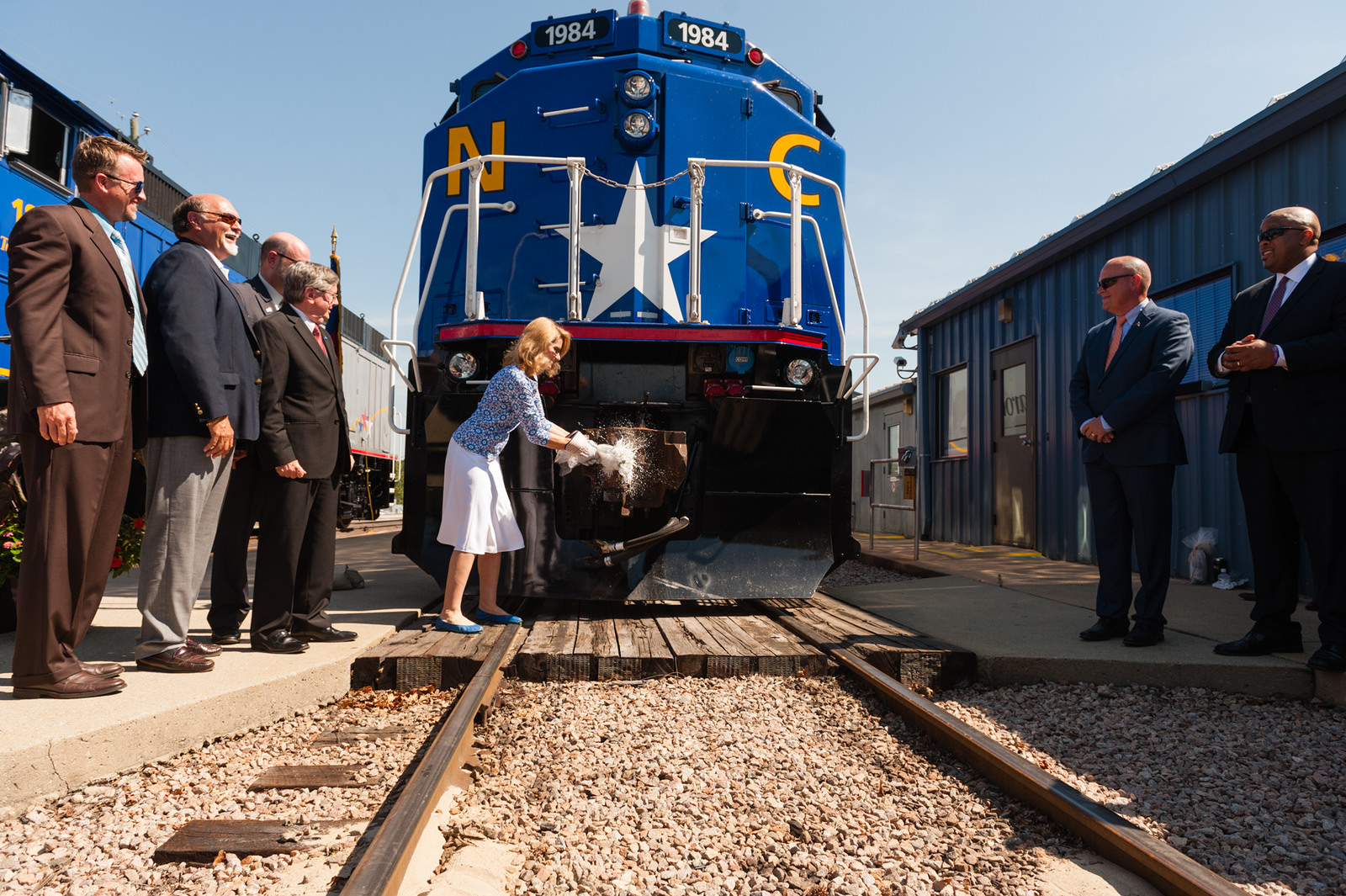 Aug. 2. North Carolina First Lady Kristin Cooper helped christen Locomotive #1984 for use in North Carolina's daily Piedmont passenger service yesterday at the N.C. Department of Transportation Locomotive and Railcar Maintenance Facility in Raleigh. Its name: "City of Kannapolis."
NCDOT names its locomotives for the cities along the Charlotte to Raleigh passenger rail corridor. Each locomotive's number corresponds to the incorporation or charter date of the city after which it is named. The #1984 "City of Kannapolis" is painted in the NCDOT Piedmont paint scheme, which incorporates the colors and symbols of North Carolina's state flag. It began service in July..
"Trains have played a significant role in the economic success of our City.  It is a pleasure to have this locomotive named after Kannapolis and to honor the accomplishments that have been achieved by our residents since we became an incorporated City in 1984," Kannapolis Mayor Darrell Hinnant said.
The locomotive was originally built in 1990 for Toronto's GoTransit system. As part of NCDOT's Piedmont Improvement Program funded through the federal American Recovery and Reinvestment Act, the locomotive was completely rebuilt mechanically, upgraded electrically and received car body repairs.  In addition, the 3,000 horse power engine was upgraded to EPA Tier 0+ emission standards.
All rebuild work was completed at the Norfolk Southern Juanita shops in Pennsylvania. The cost of purchasing and rebuilding the locomotive was $2.15 million, vs. the $6 million to $7 million cost of a comparable new passenger locomotive.
Through the Piedmont Improvement Program, NCDOT is investing more than $500 million in rail improvements between Raleigh and Charlotte. The program also paid for construction of a new canopy at the Kannapolis train station to protect passengers from inclement weather while waiting on the platform. The station served over 18,000 passengers in 2016 and also provides a space for community functions.