Feb. 17. Nationwide, the US Census Bureau is reporting January retail sales increased by 3.8 percent in January over December. The increase, even after accounting for inflation, reflected a strengthening economy even as Omicron was peaking in many parts of the country.
Compared to this time last year, sales at grocery stores, restaurants and clothing stores have all increased.
That said, inflation likely pumped up the spending numbers further in January.
Charlotte region
The Charlotte Region ended 2021 with more than $3.2 billion in investments. Employment is closer to pre-pandemic levels as well.
Focusing on Charlotte, the region saw a total of 103 announcements, which represents over 9,000 jobs and $3.2 billion in capital investment. For the fourth quarter, there were 26 total announcements that represented over 1,600 jobs and $364.9 million in capital investment.
The largest announcement occurred in Cabarrus County from a joint project with Kroger Co. and the Ocado Group, which represents over 700 jobs and $142 million in capital investment.
The region added over 11,000 jobs in the fourth quarter and outpaced the nation in sectors including trade, transportation, and utilities and education and health services.
North Carolina
North Carolina's economy ended 2021 on a strong note. According to Wells Fargo, private employers added 20,700 jobs in December and the state's unemployment rate fell to 3.7 percent.
Job growth was broad-based throughout the private sector in December. Wells Fargo said the strongest job gains continue to come from the industries that lost the most jobs at the onset of the pandemic, most notably the leisure & hospitality industry. Nevertheless, nearly every industry added jobs this past month.
Transportation & warehousing, education & health care and professional and business services all posted solid gains in December.
National picture
"Omicron and inflation were not enough to deter U.S. consumers from spending in January," Lydia Boussour, lead U.S. economist, and Kathy Bostjancic, chief U.S. financial economist, at Oxford Economics, wrote in a report.
Nationwide, sales at general merchandise stores rose 3.6 percent, while department stores saw business rise 9.2 percent. Sales at furniture and home furnishings stores rose 7.2 percent. Online sales surged 14.5 percent.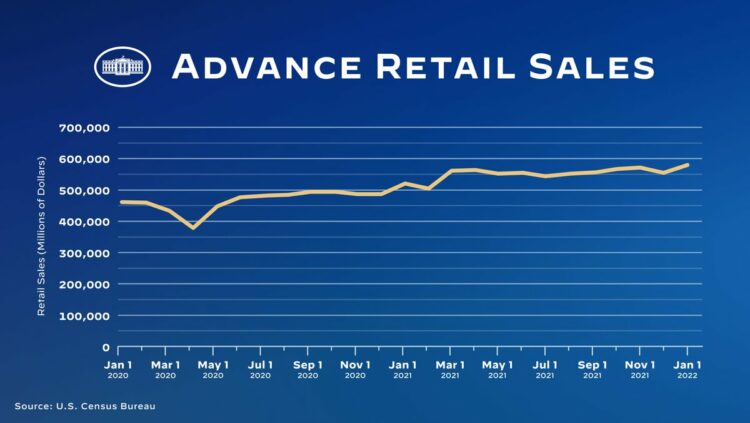 However, restaurants saw a 0.9 percent decline from the month before, as consumers refrained from going out to eat due to omicron.
Residential construction
Residential building permits in January were at a seasonally adjusted annual rate of 1,899,000—less than a percentage point above the revised December rate of 1,885,000 and is 0.8 percent above the January 2021 rate of 1,883,000. Single‐family authorizations in January were at a rate of 1,205,000; this is 6.8 percent above the revised December figure of 1,128,000.
of 629,000 in January.