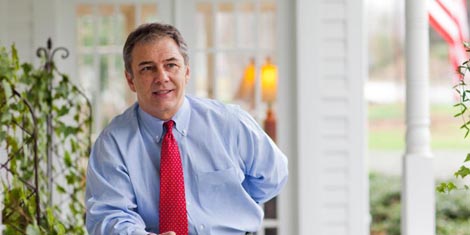 By Dave Friedman. After a period of gridlock, in-fighting, and nastiness that extended beyond the meeting rooms of the Cabarrus County Board of Commissioners, 2015 provides an opportunity for the newly cohesive and well-mannereded group to focus on projects that help the community.
Commissioner Steve Morris is ecstatic about the new cooperative culture, but recognizes that the lack of progress on important projects stalled growth in the past. Pressure is high to accomplish major goals.
"I'm definitely excited," said Morris. "We are very open to communicating with each other and working to solve problems. It is a refreshing change."
In November Diane Honeycutt, Grace Mynatt and Lynn Shue were elected to replace Jason Oesterreich, Larry Burrage and Chris Measmer on the board. In the time between the May primary and the new commissioners taking office in December, the odd ducks caused a stir when they stripped funds for various local projects, and in general made life difficult and compromise impossible. Morris has helped instill  a vastly different mentality among the new board members.
Restoring a positive rapport with the two local school boards, and preparing for growing numbers of students is Morris' first priority.
"We have to meet the growth we're experiencing when it comes to school construction," said Morris. "In addition to what's on the table, what is coming down the pike and how do we prepare for that? Improving our relationship and ability to communicate with the school boards, having trust and discussion with those two boards, is our greatest service to the taxpayers."
Morris acknowledges that a lot of time has been wasted, and because of the poor relationship with the schools, projects have moved along inefficiently. However, he believes the new commissioners and school boards are on the same page and a climate of working together is here. In fact, he thinks the board of commissioners' legacy depends on it.
"The silver lining to everything that went on is people are much more aware and paying attention," said Morris. "The public doesn't have confidence in us if we can't get along and work together."
Cooperation is also the reason their inaugural Commissioners Cabarrus Summit is so important. All elected officials were invited to come together and collaborate with each other. Doing so creates a unified front for positive change that the public can get behind.
"It's a team sport," said Morris. "The biggest win occurs when we're all on the same page. Getting everyone together presents an opportunity to interact and build relationships. If there are issues down the line, we know each other and who to call."
Besides the schools, and creating a culture where economic development can thrive, Morris is interested in sprucing up the over-crowded courthouse facility, addressing what could be a lack of space in and around the sheriff's department over the next several years, and seeing what can be done about adding parking in downtown Concord by the Governmental Center.
While Morris has not spent a lot of time considering whether he will run for re-election in 2016, when his seat along with Liz Poole's are likely to be challenged, he's likely a shoe-in. He has the backing of the local business community and the rank and file.
"My decision will be greatly impacted by how we do over the next year," said Morris. "You have to make hay while the sun shines. This is a great opportunity."
He was the guest speaker at Business Today's Newsmakers Breakfast sponsored by Team Honeycutt at Allen Tate in Concord, The Ben Mynatt Family of Dealerships, KS Audio Video and Lucky Clays Farms. Chairman Morris fielded questions in front of a crowd of about 75 people at The Piedmont Renaissance Center in downtown Concord.