March 18. By Dave Vieser. Officials from Davidson and Mooresville have agreed to put the locally owned cable/TV/internet system,  Continuum, previously known as Mi-Connection, on the market. The towns have retained RBC Capital Markets as the exclusive financial advisor for the proposed sale.
If the towns receive a satisfactory offer, the citizens of Mooresville and Davidson will be asked to approve the sale on the November ballot, per state statute.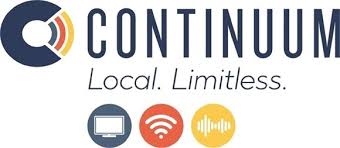 "The time is right to sell," said Mooresville Mayor Miles Atkins in a press release. "Continuum has grown to become a competitive digital network. Selling would give us long-term financial flexibility that lets us turn our focus toward building infrastructure that paces our booming population."
Despite the positive comments offered by the two town leaders, the purchase of the cable system was always a controversial issue, which played a role in Davidson's most recent Mayoral election, and  caused Cornelius officials to back away from participating in the acquisition of the cable company in 2007.
"No matter how you might feel about local government owning a cable company, we should all feel extremely proud of what we've managed to build since the purchase," said Davidson Mayor Rusty Knox.
While public comments about Continuum were upbeat, some recent stats are concerning. For example, in the cable company's 2nd quarter report, it was stated that revenue generating units (RGUs) were down 3.59 percent, and customer relationships were down 1.93 percent in FY19 Q2 versus FY18 Q2.
Continuum CEO David Auger says revenue is up 50 percent. EBIDA (earnings before interest, depreciation and amortization) is up by 400 percent. The company has built a 1GHz digital network with extensive fiber deployment serving more than 17,000 residential and business customers in the towns of Mooresville, Davidson and Cornelius.
Originally called MI-Connection, the company was established in 2007 as an interlocal agency by North Carolina legislature and the towns of Mooresville and Davidson in order to build an advanced communication network that better served their communities.  In 2016, Auger led a rebranding of the company, now Continuum, to better reflect their range of products and continued commitment to core community values.