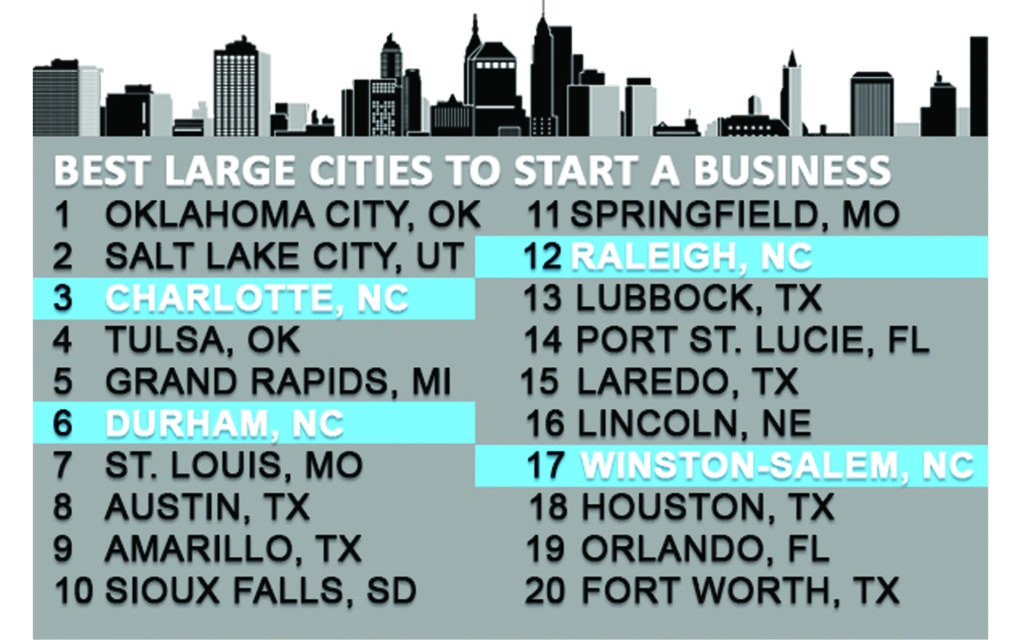 By Kate Stevens. Six North Carolina cities, including Mooresville and Cornelius, have placed in the top 100  best small-sized cities to start a business, according to a personal finance web site study released in April.
Mooresville, ranked as the 32n d best small-sized city to start a business, and Cornelius ranked 80th, are included in an analysis of more than 1,200 U.S. cities by WalletHub.com to determine which cities are most business-friendly.
To determine the rankings, the study compared cities with populations of 25,000-100,000 people across three key dimensions: business environment;
access to resources and business costs.
The study also used 16 relevant, weighted metrics including the average length of the work week, office space-availability, financing availability, the population's working age and the number of start-ups per capita to assign each city a score.
A score of 100 represented the most favorable conditions for launching a business, the study said.
Mooresville, ranked number 32 on the list, received a total score of 46.89; Cornelius, ranked number 80 on the list, received a total score of 45.27; Huntersville, ranked number 126 on the list, received a score of 44.15; and Concord, ranked number 219 on the list , received a total score of 42.89, the study said.
The best small-sized city to start a business was Holland, Mi ., with a total score of 50.22.
The other four North Carolina cities ranking in the top 100 best small-sized cities including Wilson, N.C., ranked number 6; New Bern, N.C. ranked number 93; and Salisbury, N.C. ranked number 96, the study said.
"Our area is a magnet for talented business leaders who are attracted by the small town charm with easy access to
urban amenities and a world class airport," said Ryan McDaniels, Lake Norman Economic Development executive director.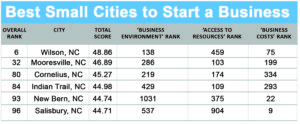 The data for the study was collected from the U.S. Census Bureau, the Bureau of Labor Statistics and other organizations, according to WalletHub.com.
Mooresville has long  had a unique business community initially capitalizing on its textile mill beginnings and then
later transitioning into a motor sports hub, said Russ Rogerson, Mooresville South Iredell Economic Development Corporation executive director.
What's interesting about the motor sport industry is that it is more than just one central business, Rogerson said.
"NASCAR is not one large corporation," said Rogerson. "It is a collection of small businesses with very unique talents."
Those small businesses, and others like it, have taken advantage of the area's
accessibility to Charlotte, a diversity of housing, a high, affordable quality of life as well as a relatively low overall cost of business operations, Rogerson said.
"We're fortunate to have people like Lowe's headquartered here, Team Penske and other large organizations, but having that balance of a strong small business community makes for a very healthy employment environment," said Rogerson.
A good business climate is an area that understands the value of services at a good cost, said Rogerson.
"I think here people get more, shall we say, bang for their buck, in terms of cost of doing business…" said Rogerson.
McDaniels said smaller-sized cities also have the benefits of offering lower rents, having a greater sense of community and lower crime rates.
"The cost of renting an office, retail space or apartment is lower than areas like Boston and Silicon Valley and we are able to attract companies looking for cost savings without losing access to talent," said McDaniels, speaking of the towns of Huntersville, Cornelius and Davidson.
Growth around Lake Norman has also brought newcomers who have a great variety of depth and knowledge and who may have been business leaders in their old communities, Rogerson said.
And the region is close enough to Charlotte to take advantage of its startup benefits without losing the great
local schools, lake activities and small-town feel of local communities, said Pat Riley, president and CEO of Allen Tate RealEstate Company.
"You can have the big city but you have it surrounded by 15 or 16 wonderful, pristine little towns," said Riley. "You can have the best of both worlds."
Access to capital, another key aspect of business growth, is also readily available in the wealthy suburbs of Lake Norman as well as in Charlotte, one of the largest banking communities in the nation, Rogerson said.
McDaniels said education also helps promote a good business climate.
"Our residents in all three towns (Huntersville, Cornelius and Davidson) exceed the national average for educational
attainment in both high school degrees and bachelor's degrees," said McDaniels.
When entrepreneurs and the interest to create start-ups are present in a community, "I really believe the entrepreneurial spirit is something that transcends education," Rogerson said.
Start-up growth and vitality will only increase locally if Charlotte continues to be the region's economic engine.
And that's likely according to a separate WalletHub.com analysis ranking Charlotte as the number three best large city to start a business.
WalletHub's analysts compared the 150 most populated U.S. cities across 18 key indicators of startup viability and Charlotte fell only behind Salt Lake City, Utah in the number two spot and Oklahoma City, Oklahoma as the best big city to start a business, the study said.
Three other North Carolina cities, including Durham at number six, Raleigh at number 12 and Winston-Salem at number 17, rounded out WalletHub's top 20 best large cities to start a business.