By Erica Batten. Birkdale, meet Annapolis. Developers of a proposed lakefront project at Midway Marina in Terrell hope to create a hip mixed-use project with a boardwalk, boat slips, restaurants, retail and pocket parks.
Along with the 55-acre development's unique design comes a $135 million price tag. Homes there could fetch some of the highest prices on Lake Norman.
Terry Shook, a partner at the renowned Shook Kelley firm, is working with Tom Scott of the Charlotte-based Scott Development Group to create a master-planned community unlike anything on Lake Norman. In January, Catawba County Commissioners approved a rezoning request for the property along N.C. 150 in Terrell just west of Iredell County.
Shook designed Birkdale Village and harbor communities in Seattle and Nantucket. He learned to sail on Lake Norman, later transferring those skills to ocean-going vessels. "Most of the lake, that I know, is virtually private," Shook said.
Patterning plans for the lakefront property after vibrant waterfront areas like Beaufort, NC or the District Wharf in Washington, D.C., Shook hopes to create a destination for boaters and non-boaters alike, with a boardwalk and boat slips, restaurants, retail and pocket parks.
Currently home to Midway Marina, the property has been rezoned from medium-density residential and rural commercial to planned development-conditional.
"The sailor in me is what brings the passion in this," Shook said. "It's always good to come back home to the South."
The new harbor community will consist of roughly 640 age-targeted (55 and up) townhomes and single-family homes. A public waterfront and marina will have 310 boat slips. The mixed-use development will also feature several blocks of ground-floor restaurant and retail space with second-floor residential units.
Shook said his benchmark is to build a "little, small Annapolis."
Nearby residents, however, have expressed concerns about the impact of higher-density development on traffic congestion. The latest NCDOT data show an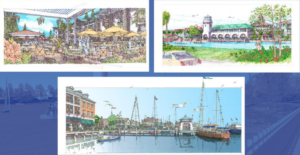 annual average daily traffic count of 17,000 vehicles on that portion of N.C. 150. Construction to widen the highway is set to begin this year, but only on the Iredell County side.
In Catawba County, widening isn't scheduled to begin until 2028. Scott and Shook, who both plan to live in the Midway development once it is complete, spoke during at the commissioners' meeting when rezoning was approved. "I'll be 65 in April," said Scott, who has developed more than 25 master-planned communities in North Carolina, South Carolina, Virginia and Georgia. "This is my last hurrah."
Scott and Shook were also in Terrell last September to present project details to residents of the Greenwood Road community. Shook said he is not sure what the Midway community design will ultimately be, but that Maryland's capital city is an inspiration.
Design elements for the Midway development include restrictions on the types of materials that will be featured on building facades; vinyl siding is prohibited in favor of brick, stucco and tile. Where the building faces N.C. 150, at least 15 percent of the facades will be windows and doors. A key feature of the project is the "gateway" aspect, presenting a unified harbor community vista as drivers enter Catawba County over the N.C. 150 bridge.
From the permitting phase through lot sales and site development, Scott estimates the project will take five to seven years. Sale of the property is expected to be complete by May, and development is set to begin in 2021.