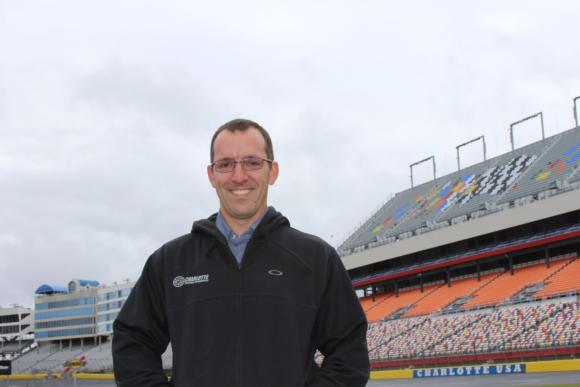 Dec. 8 Michael Gibson has been named Charlotte Motor Speedway's 2014 Employee of the Year. The award recognizes an individual who goes above and beyond the call of duty in executing his or her responsibilities.
A UNCC graduate, he was hired as lead plumber in the speedway's Operations department, but has not limited himself to that role. From helping to construct various projects around the track to earning the name "the snake wrangler," Gibson is always willing to lend a hand.
"Michael's work ethic is unquestioned, but it's his passion for the work and the enthusiasm he brings to the job that makes him stand out among his peers," said Marcus Smith, president and general manager at Charlotte Motor Speedway. "No matter what the job is, you know Michael will be there leading the charge to make sure it's done right and done well."
Doug Cremer, executive director of events at the speedway, had nothing but high praise for Gibson.
"Michael is a great guy. He always has a smile on his face and a joke to crack," Cremer said. "He will help anyone with anything. He is very positive and upbeat, he keeps the ops guys laughing while doing outstanding work!"
Gibson said he was completely surprised he heard he was chosen as Charlotte Motor Speedway's 2014 Employee of the Year.
"I was stunned," Gibson said. "I was definitely not ready for that."
As this year's Employee of the Year, Gibson received a trip to Las Vegas for the 2014 NASCAR Sprint Cup Series Awards Ceremony on Dec. 5, among other perks.