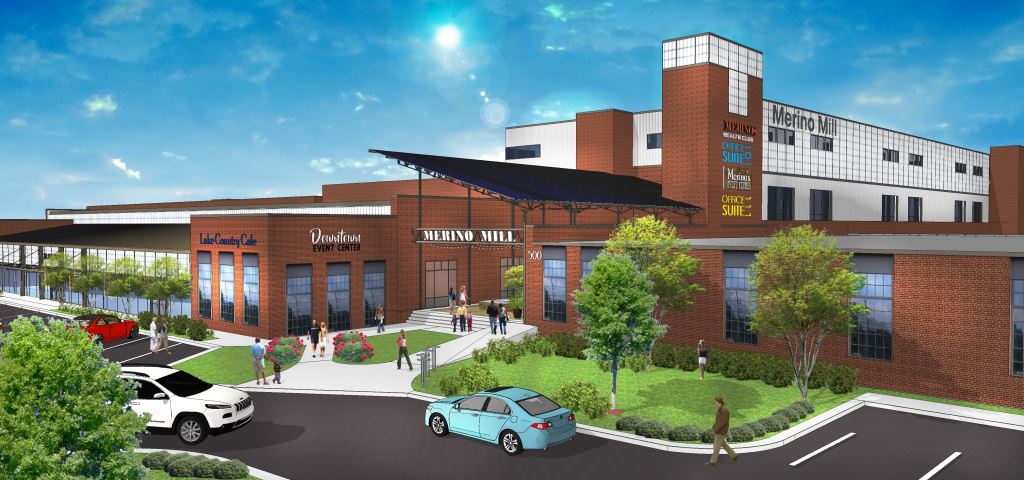 Dec. 12. It looks like there will be another expansion at Merino Mill. Mooresville-based Adams + Associates Architecture will design the 110,000 square foot renovation around office and showroom space.  Current tenants at the sprawling textile mill complex include Hitachi, Greenworks Tools, Mohawk flooring, Yotrio and the Mooresville South Iredell Economic Development Corp.
The old 1.1 million square foot mill is also the home of Alino Pizzeria, Main St. Antiques & Design Gallery and Merinos Home Furnishings.
New spaces  in the old mill will feature large windows, exposed brick walls, and other distinctive architectural details from the mill.  The renovation is expected to be completed in May.
Burlington Mills closed the operation on Main Street in 1999. Entrepreneur Michal Bay bought the mill in 2011. The project won the 2017 Great Places Award from the N.C. Chapter of the American Planning Association. The property is also an electric plant thanks to a bank of solar cells installed on the roof.
Bay, who paid $500,000 for the abandoned mill,  has bought and renovated two other old textile mills in Fort Lawn, S.C.; and Jefferson, Ga.