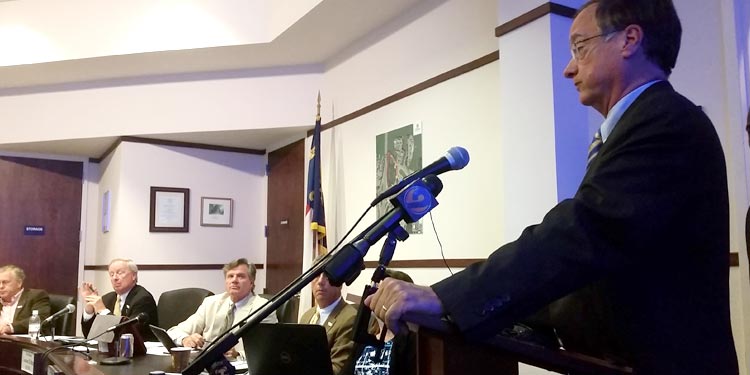 In advance of the Lake Norman Chamber's board meeting, the NCDOT Undersecretary Nick Tennyson outlined some of the ramifications of cancelling the $650 million contract with I-77 Mobility/Cintra/Ferrovial and opting for a general-purpose lanes project instead.
---
As a former chamber [of commerce] executive, I know that your organization has a wide range of business and community interests.  My background as a small business owner sensitizes me to the vast array of daily tasks that must be accomplished and the sacrifice that your board members make by volunteering to provide policy guidance to the group. I appreciate the opportunity to provide some comments for the board's consideration.
When discussing the I-77 Express Lanes project there are several important things to understand up front. First of all, this was a project studied by, requested by, unanimously approved by, and continues to have the full support of the local planning organization (CRTPO formerly MUMPO). NCDOT is simply delivering the project requested by local authorities and the state does not unilaterally hold the decision to continue or cancel the project.
Secondly, it is equally important to understand that there is only one long-term traffic management solution for the region guaranteed to be built and that is the I-77 Express Lanes project currently under contract and scheduled for completion in three years. Canceling the project does not automatically convert work to general-purpose lanes construction.
Under state law any new project would have to be submitted through the data-driven scoring process that occurs every two years and rank high enough against other projects to be eligible for funding. There is no guarantee that any future general-purpose lanes project would be funded through that process. Anyone who suggests that a new I-77 project could bypass the process required by law or somehow tap into funds other than those available through the scoring process is simply uninformed or is intentionally misleading citizens.
Finally, it is necessary to state again that the projects included in the proposed transportation bond list were selected from those previously submitted through the statutorily mandated process and are the next projects in line with environmental documents secured. New projects that were not previously submitted by local planners through the data-driven process are not eligible for the proposed bond referendum which has not even been added to the ballot as of yet.
Thanks for the opportunity to provide this information and we look forward to continuing to work to deliver the best possible outcome for all of North Carolina.
Nicholas J. Tennyson
Chief Deputy Secretary
NC Department of Transportation