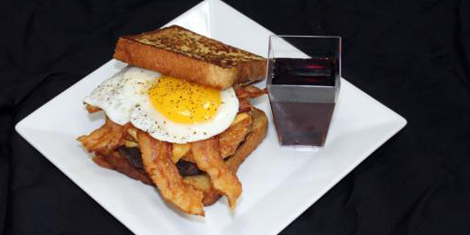 March 13. This just in from the PR staff at Lowe's Motor Speedway: Restaurant concession stands will serve a 1,200 calorie mega-burger at an upcoming event. The sandwich—made from slices of French toast—combines a quarter-pound cheeseburger topped with hash browns, more American cheese, bacon, an egg and maple syrup.
The PR people at Lowe's Motor Speedway—among the most prolific in North Carolina—quoted boss man Marcus Smith saying it is "a smorgasboard of good food." They were not kidding.
"I know our fans will enjoy this combination of hearty, all-American favorites in one burger," Smith said.