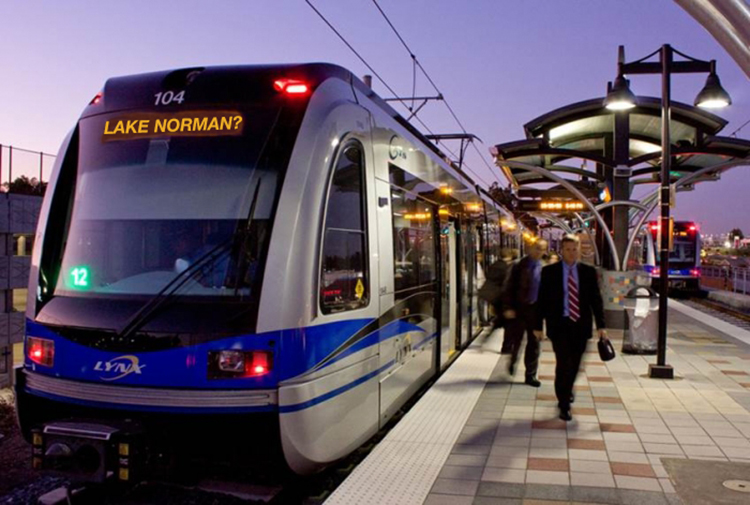 March 28. UPDATED. By Melissa Atherton. The Metropolitan Transit Committee (MTC) voted 8-1 Wednesday to proceed with the Charlotte Area Transit System (CATS) North Commuter Line Study.
The vote was a defeat for Huntersville Mayor John Aneralla who wanted to see the money spent on "real help, right now" for congestion in North Mecklenburg. Mayors Rusty Knox (Davidson) and Woody Washam (Cornelius) voted to continue the study.
One veteran member of the Cornelius Town Board, Dave Gilroy, expressed anger about the vote and Aneralla's defeat. "It's the epitome of waste—classic government horse—-," said Commissioner Dave Gilroy.
Aneralla opposed studying a new corridor that would put the train away from northern suburb downtowns. Aneralla also said the money could be better spent on bus transit improvements. The conjecture that more studying can bring will also be detrimental to business owners and landowners, the Huntersville mayor said.
"If you have a corridor drawn through our community it will be extremely disruptive," said Aneralla. 
The issue is straightforward. Norfolk Southern, a for-profit corporation, owns the existing railroad and uses it for freight purposes that are not compatible with sharing. The CATS study proposes spending millions searching for an alternative corridor that will cost billions.
The Metropolitan Transit Commission (MTC) is the policy board for CATS and has responsibility for reviewing and recommending all long-range public transportation plans.
Voting members on the MTC Board include the Mayors of Charlotte, Cornelius, Davidson, Huntersville, Matthews, Mint Hill and Pineville, the Chairman of the Board of Mecklenburg County Commissioners and the regional representative from the North Carolina Board of Transportation.
Washam and Knox voted in support of the study.
Washam stressed that he wanted the commuter rail on the current track or adjacent to it. He said the study was needed in order to obtain federal funding.
"We have to have this line, somehow, in North Mecklenburg," said Washam. "I want to do the right thing in my community."
Knox mirrored Washam's concerns.
Knox stated: "I didn't vote in protest. Our real corridor is defined. But if we don't have access to that corridor ever, we need options."
Gilroy, who was also an early leader in the anti-toll movement, thanked Aneralla "for his leadership and are very disappointed" in Knox's and Washam's vote. "It makes utterly no sense."
The next MTC meeting will be held April 25th. The second round of Red Line public input will be in early spring or summer.