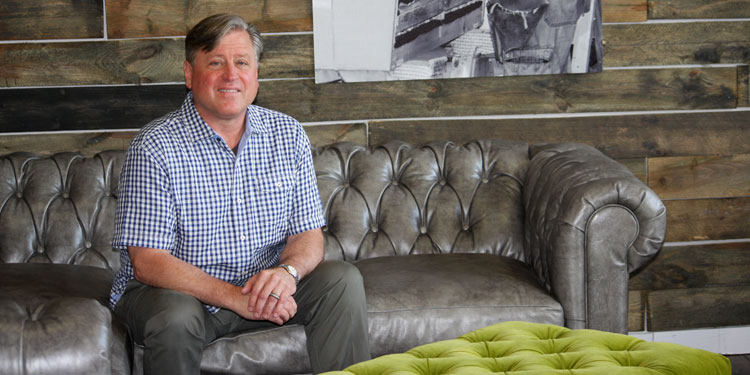 July 10. Steve Sechrest, the owner of COCOCO furniture, says his company will be on a new Fox TV reality show called "Home Free" this summer. COCOCO is the new name for the Comfortable Couch Co. in the Oak Street Mill in Cornelius.
"One of the TV production company designers saw our furniture in Atlanta and said, 'We need to have COCOCO furniture on the show. They're hot," said Sechrest. COCOCO has opened a new showroom in Atlanta's upscale Buckhead neighborhood, and that led to the TV show opportunity.
Sechrest along with wife Danielle and partner Gary Mangione launched their online furniture business in 2009. It focused on upholstered sofas, sectionals and chairs that were similar to big retailers such as Restoration Hardware who had moved their production to China. But they made them in a wider variety of styles at a plant in Newton, N.C.
"The first year we did about $300,000 in sales and over $600,000 the next year, then $1.3 million, last year about $3.2 million and this year we are on a pace to exceed $5 million," Sechrest said.
During the past year Sechrest moved from a small basement office to a larger office and showroom in the old mill building.
Sechrest says he is excited about is company being on "Home Free." It's a big financial commitment, on the order of $100,000.
"The show is going to be a combination of Big Brother, Amazing Race and Extreme Makeover," he said. "Nine Atlanta-area couples who need a new house will be given dilapidated fixer-uppers and challenged to do makeovers while they are living there. With plumbers, carpenters and painters working in the space while the couples are trying to live in the houses, as well as several twists which the producers will throw at them, it will be a real challenge and great for reality TV."
Each week one couple who has been deemed to be the weakest remodeler will be eliminated, until at the end the winners will receive a dream home with all new interiors. There's also a "huge surprise at the end," which Sechrest could not divulge.
Eight episodes of "Home Free" will air on the Fox starting July 22. The eight-part series will be hosted by professional contractor and Canadian TV host Mike Holmes of the "Holmes on Homes" show.
COCOCO will give away $100,000 worth of furniture during the series.It's all about marketing, however. "We believe the national exposure will be a big boost for our brand and help stimulate further sales growth."
PHOTO BY STEPHEN NANCE