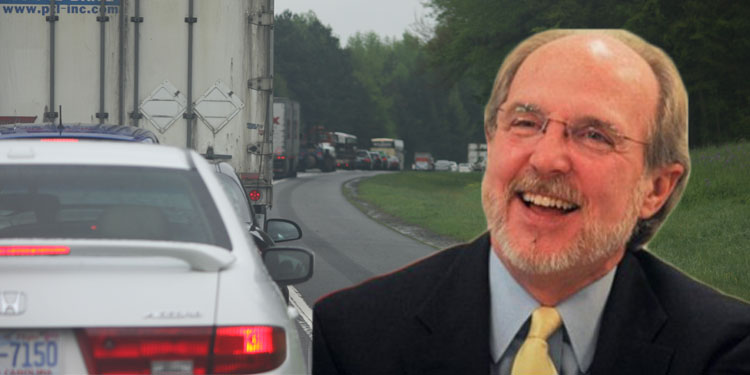 ANALYSIS. By Dave Vieser. The Cornelius Town Board, by a 3-2 margin, reaffirmed its decision to pull out of the Lake Norman Regional Transportation Commission. Just like Huntersville and Davidson, Cornelius is ending its commission membership, leaving its future in doubt.
The Cornelius decision didn't come easy, as a split had developed between Cornelius' Mayor Chuck Travis and the three members of the town board who wanted to opt out. Some of it has to do with tolling I-77, the over-riding issue in Lake Norman business and politics. The LNTC was largely silent on the $650 million plan to widen I-77 between Lake Norman and Charlotte, tacit approval of the controversial NCDOT-Cintra contract.
"I think it's time to restart it in a different way and in a different format" said Woody Washam, a popular banker and mayor pro tem of Cornelius. "It was a good concept at its time, but I think we've outgrown it and it's time to try something else."
"I think it's time to restart it in a different way and in a different format. It was a good concept at its time, but I think we've outgrown it and it's time to try something else."

– Woody Washam, Cornelius Mayor Pro Tem
Travis, who was appointed to the NC Turnpike Commission by Gov. Pat McCrory, disagreed. "We have a group working together, all four towns and nowhere else in the state does this exist. But you are willing to throw it out the door?"
Another businessman, Scale Finance founder Dave Gilroy, is a long-time town commissioner and vocal critic of the NCDOT-Cintra deal. "It's all about impact. At the end of the day, what do you have to show for the time and money we have spent? Not much, and that's the bottom line from my standpoint."
With that, Commissioners Washam Gilroy and Miltich voted to withdraw from the LNTC, while Commissioners Thurman Ross and Jim Duke voted to stay in. Mayor Travis only votes in the event of a tie, so effective July 1, Cornelius is no longer in the LNTC.
Historically, each of the LNTC's four towns had chipped in $20,000 annually, primarily to fund the salary of Executive Director Bill Thunberg, so the future of the commission is cloudy at best. Thunberg, the former mayor of Mooresville, could not be reached for comment.
The LNTC also appeared to be the chief proponent of the Red Line extension from Charlotte to Lake Norman. After months if not years of discussion, it turned out that no one had checked in with Norfolk Southern as to whether track was available for commuter rail. It wasn't, which was a fiasco, according to Gilroy.
Is regionalism dead? Apparently not. Huntersville Mayor John Aneralla said his town's "intention has always been to be a part of a regional transportation planning organization," but not with paid executive director.
The three towns of North Mecklenburg also cooperate with their own economic development corporation as well as the ownership of an industrial park in Huntersville.
"We indeed want to meet regularly and that is going to be my intention and goal, with a monthly meeting where more people are involved from each town and coordinate efforts that need to be coordinated," Aneralla said.
The ongoing controversy over the I-77 toll lane project has unearthed deep concerns among some local town officials about the effectiveness of the LNTC in its current configuration. With the 2017 fiscal year rapidly approaching, each town, one by one, made its decision whether to stay or go. The headcount, pending last-minute changes of heart, has Huntersville, Davidson and Cornelius leaving, with Mooresville the only town to stay.