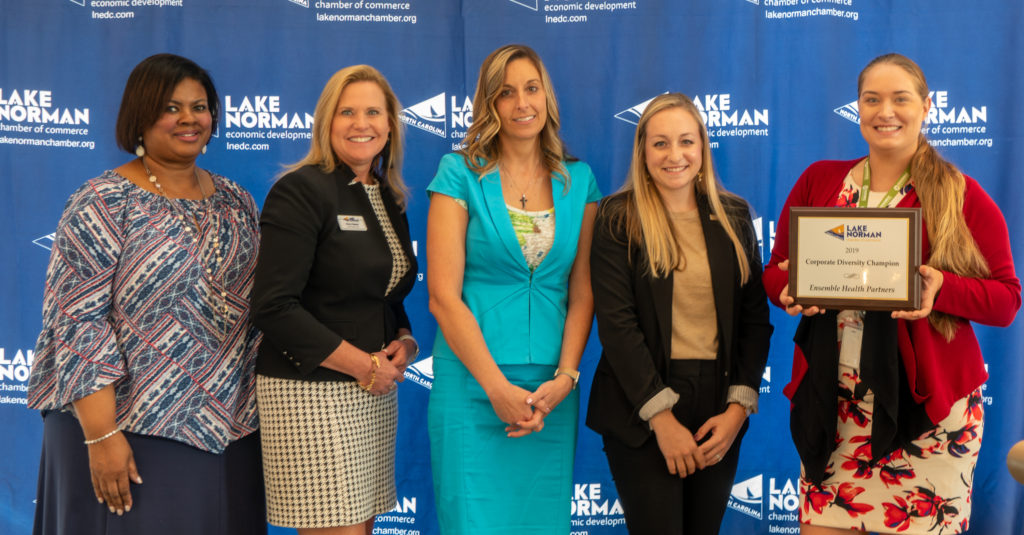 The Lake Norman Chamber of Commerce recognized a local small businesses, a corporation, a nonprofit and a teacher for their efforts to promote diversity and inclusiveness at the Diversity Luncheon held at River Run Country Club in Davidson.
The keynote speech was given by Beth Bledsoe, vice president of human resources at MSC Industrial Supply in Davidson. She discussed how the company is tapping a new talent pool on the Autism spectrum as well as their partnership with external agencies.
Selected as the Individual Diversity Champion was Lori Hughes, Exceptional Children's Coordinator at Lake Norman Charter School. The Nonprofit Diversity Champion was The Ada Jenkins Center. The Chamber's Small Business Diversity Champion was Lake Norman Muay Thai in Mooresville and the Corporate Diversity Champion was Huntersville's Ensemble Health Partners.
The awards were given by Chamber CEO Bill Russell, Board Chair Tricia Sisson and Vice Chair Cheryl Banks.
PICTURED: Huntersville's Ensemble Health Partner received the 2019 Lake Norman Chamber Corporate Diversity Champion award for the company's work on behalf of diversity and inclusion. Presenting the award was Board Chair Tricia Sisson and Diversity Co-chair Cheryl Grant. Photo courtesy of John McHugh / Ocaid Photography.