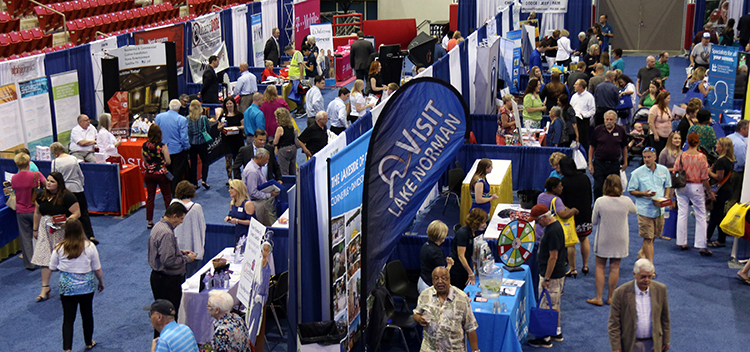 Huntersville Mayor John Aneralla says he is excited to have the Lake Norman Chamber Expo come to the new Huntersville Recreation Center in November. A mainstay of spring, the Lake Norman Chamber Business Expo is moving from Davidson College to the $6 million facility in Huntersville Oct. 11, as first reported by Business Today back in April.
Companies and non-profits show their game faces at business expos. They're opportunities to hawk their wares, get a handle on the competition and network with other business owners.
There were some 170 exhibitors at the LKN  expo June 7 last year.
The $6 million-plus municipally owned Recreation Center in Huntersville has two gyms and meeting space on Verhoeff Road, less than a mile west of Commerce Station Business Park.
"I'm excited to have people come and experience our new Recreation Center," said Huntersville Mayor John Aneralla. The facility, which opened in January, has indoor space for a variety of sports, ranging from pickle ball to soccer.
The Business Expo, celebrating its 18th anniversary, is the largest business to business trade show in the lake region.
Davidson College hosted previous Expos outside of the first Expo held in Cornelius in 2001 and one at CPCC in 2010. "This new location, while smaller, allows our Expo to showcase about 110 businesses in one location. The new recreation center also allows us to capitalize on a larger population and business district than in previous years," said Bill Russell, LKN Chamber CEO.
As in prior years, sponsors will be allowed to choose booth location and a pre-event reception is being scheduled for sponsors only the evening before the Expo.  For more information contact the Lake Norman Chamber at 704-892-1922 or visit www.LakeNormanChamber.org.