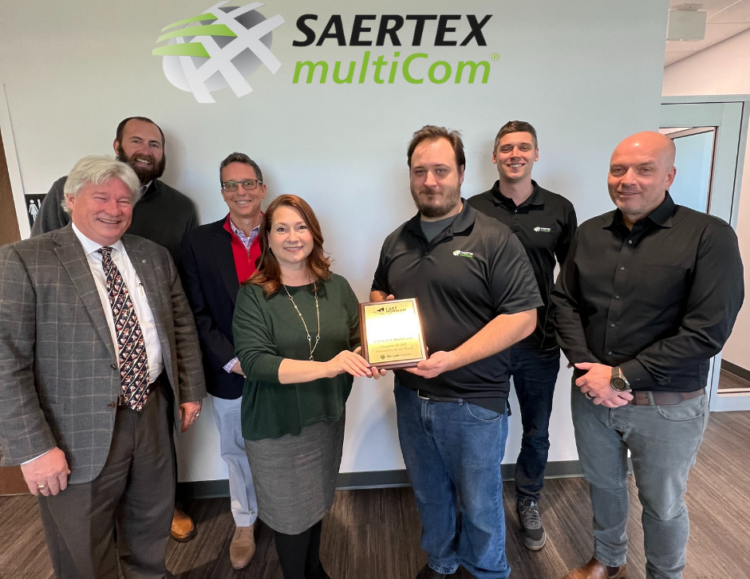 Dec. 17. The Lake Norman Chamber of Commerce has recognized Saertex MultiCom for their "outstanding, continuous" support of education and workforce development. The Huntersville-based company received the "Inspire our Future" award with the present and former Huntersville mayors present.
"Having a community partner like Saertex MultiCom helps us draw attention to the career opportunities that await students as they transition into the workforce," said Mayor Melinda Bales.
Also in attendance was former Mayor John Aneralla who has announced he is running for Congress in the new 13th District.
Saertex has participated in multiple Career Days and recently hosted an educator and administrator tour for Hopewell High. The company also plans to begin an internship-to-apprenticeship program next month.
Background
Saertex MultiCom is a German-owned, locally staffed company that creates fiberglass pipe liners to rehab old and damaged pipes.
Outlook
The company plans to hire 10-15 new workers for various roles, including production operators and administrative support, according to Klaus Langenbach, managing director of Saertex.
The photo
Matt Hoover, Head of Production and Technical for Saertex MultiCom receives the Lake Norman Chamber's 2021 "Inspire our Future" award from Huntersville Mayor Melinda Bales, also Chair of the LKN Education Collaborative. Also pictured left to right is Chamber President & CEO Bill Russell, Ryan McDaniels, Executive Director of the Lake Norman Economic Development, Former Huntersville Mayor John Aneralla, Zachary Halter, Head of Production Planning and Administration Saertex MultiCom, and Klaus Langenbach, Managing Director Saertex MultiCom.