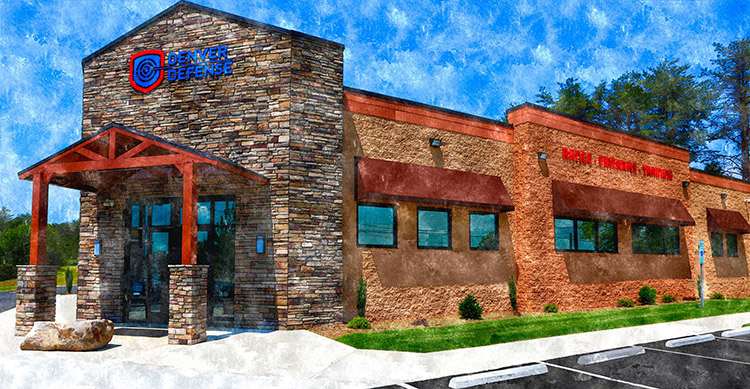 Jan. 17. By Dave Yochum. If Hilary Clinton had been elected, none of this would have happened. It turns out the Donald Trump presidency coincided with a precipitous decline in the firearms and shooting range industry.
People didn't feel like their right to bear arms was threatened, and revenue at Denver Defense, a gun range over in Lincoln County, went down. It also fell at The Range at Lake Norman where co-owners Tricia Sisson and Brian Sisson are fixtures in the Lake Norman business and political scene.
Besides being a Cornelius Town Commissioner, Tricia is the chair of the Lake Norman
Chamber for a few more hours—her term expires tonight—and Brian, the actual boss-
man at The Range on Bailey Road in Cornelius and The Range at Ballantyne in South Carolina and another gun shop in Pineville—has just thrown his hat in the ring for NC Senate District 41 as an independent.
Political observers say Brian's petition drive to get on the ballot is no more than a shot in the dark.
But that's not the story.
The other side is just as prominent, with names like Bob Watson, a leader in the Tea
Party movement, friend of many top Lake Norman area Republicans and a business consultant and real estate investor, as well as Kevin LaFone, a Cornelius optometrist and Craig Norfolk, the now retired head of the ElectriCities utility in Huntersville and Cornelius as well as former chairman of Lake Norman Economic Development.
They, along with other investors in a company called Bayport Holdings and Denver Property Partners, opened Denver Defense in Denver NC when the gun range business was sizzling.
It was far enough from the Sissons' Range at Lake Norman to attract new customers and for the Sissons and Watson et al to be friends and share ideas in a very expensive industry.
Gun ranges cost millions to build; the physical plant at Denver Defense was valued at more than $4 million.
It's empty, foreclosed on and for sale.
What happened is that a couple of years after Denver Defense opened, the bottom fell out of the firearms industry.
Denver Defense struggled with debt payments on the order of $26,000 a month. Watson et al turned to then-friends at The Range at Lake Norman for help, where Brian Sisson was well-regarded in the gun range/weapon sales industry.
Well-known business broker Joe Vagnone had been hired by Denver Defense to find a buyer. None was to be found, including Brian Sisson, who at first said "no thank you."
Watson et al, Sisson and Vagnone then worked out a management contract and letter of intent whereby Brian Sisson would run Denver Defense until he could find a banker willing to refinance the business.
That agreement is the subject of Watson/Bayport/Denver Defense V. Sisson/The Range at Lake Norman/The Range at Ballantyne/The Pineville Gun Shop. The defendants have counter-sued.
Chief among the charges is fraud and deception. Denver Defense alleges that Sisson, as a competitor, entered into the management agreement in January of 2018 with the intent to "run Denver Defense" into the ground.
Disputed is whether Sisson opened a new banking account to handle Denver Defense finances when he took over management two years ago.
Brian Sisson testified that he ran Denver Defense revenue through existing accounts at The Range at Lake Norman.
Watson et al allege that was a fraudulent and deceptive act. Sisson testified the account was separate in fact from Denver Defense and therefore within the spirit of the management agreement. Separate books were diligently maintained, Sisson testified.
Former Denver Defense bookkeeper Kim Contino, an independent contractor based in Mooresville, smirked often enough during Sisson's testimony to be upbraided by Special Superior Court Judge Michael Robinson.
The court proceedings have been interesting since they got under way Monday.
The Range CEO Tricia Sisson—who is not specifically named in the lawsuit—has not been in court all week.
One of Brian Sisson's attorneys
repeatedly addressed Bob Watson as "Mr. Sisson," apologizing each time.
And when Watson was posed with a hypothetical question involving turnips, Watson responded with an answer involving elephants. But that's only half of it: The jury was heard laughing about turnips and elephants. They were scolded by Judge Robinson.
Regardless, all Denver Defense funds went through The Range at Lake Norman accounts, under Sisson's management, which lasted four and a half months. Watson et al allege $320,000 was diverted to The Range at Lake Norman.
Sisson testified Denver Defense profits were less than $2,500 during his tenure. Meanwhile he paid the debt service for four months.
Sisson testified that his personal salary at The Range was $980 every two weeks, that he did not draw a paycheck at Denver defense.
By the time the fifth payment was due, the relationship with Watson had become
"adversarial," Sisson testified. Rather than call or send a registered letter or overnight letter, he terminated the management agreement in an email to Watson.
Indeed, the management agreement failed to list an address for Watson, but he's a known quantity in The Peninsula and Lake Norman politics where the Sissons are also active.
Sisson attorneys pointed out how an email was faster and much more efficient than any other kind of mail.
Watson attorneys said it was another example of Sisson violating the agreement. Contino used the word "co-mingled" to describe the treatment of funds during Sisson's management. The Denver Defense side is saying some $300,000 is involved.
Questions were raised about how sales taxes were handled among multiple county and state jurisdictions, but that may be a matter for tax officials.
Under cross-examination, Sisson said The Range at Lake Norman was also listed for sale when he began discussions, albeit reluctantly, to take over Denver Defense.
Sisson testified that Watson misrepresented the true nature of Denver Defense's precarious financial situation.
When Sisson "terminated" the management agreement by email, he also emailed Denver Defense customers saying the business was closed.
This caused irreparable harm, Watson testified. The business did reopen a few days later—with Sisson banned from the premises—but it soon closed.
The building is for sale for $2.6 million.
A Lincoln County jury will get the matter sometime today and render a verdict. Meanwhile, Tricia Sisson will preside over the Lake Norman Chamber gala tonight prior to turning the volunteer reins over to Richard Pappas, the incoming chair.