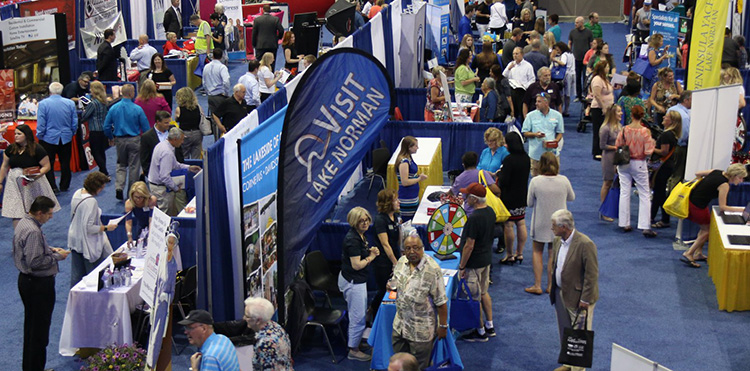 The Lake Norman Chamber of Commerce Business Expo is going strong at the ripe old age of 19. In a digital world, there's still plenty of room for old-school analog—and dialog.
This particular B2B expo—it's Oct. 10 at the Huntersville Recreation Center—has held its own since the very first year when Chamber CEO Bill Russell asked a Cornelius skating rink owner if he could put carpet down and sell booths for a business expo at the lake.
Back then the Lake Norman business community was still small, but it stuck together and maintained its entrepreneurial style, as well as relationships, says Russell.
He says about 70 percent of the exhibitors have been part of the expo since the beginning.
Attendees and exhibitors alike place a premium on the ability to talk, sell and network face to face. Of course, there's the opportunity to see what competitors are up to and poach ideas.
Meanwhile, expos in other markets have dwindled or combined with others.
"There's a certain chemistry that makes the [Lake Norman] event successful. I've told people when they join the chamber we're different, we're a family of businesses who care about each other," Russell says.
At press time all the booths have been sold, and there's a waiting list. The price tag was $270 for members who sign on early; $420 for non-members.
"I know a lot of people think they can network off of social media…if I do tweets every day, I can build a strong network," Russell explains.
But that personal contact is missing.
"You still network face to face…people want to talk to you, hear you. They want to trust you," Russell said.