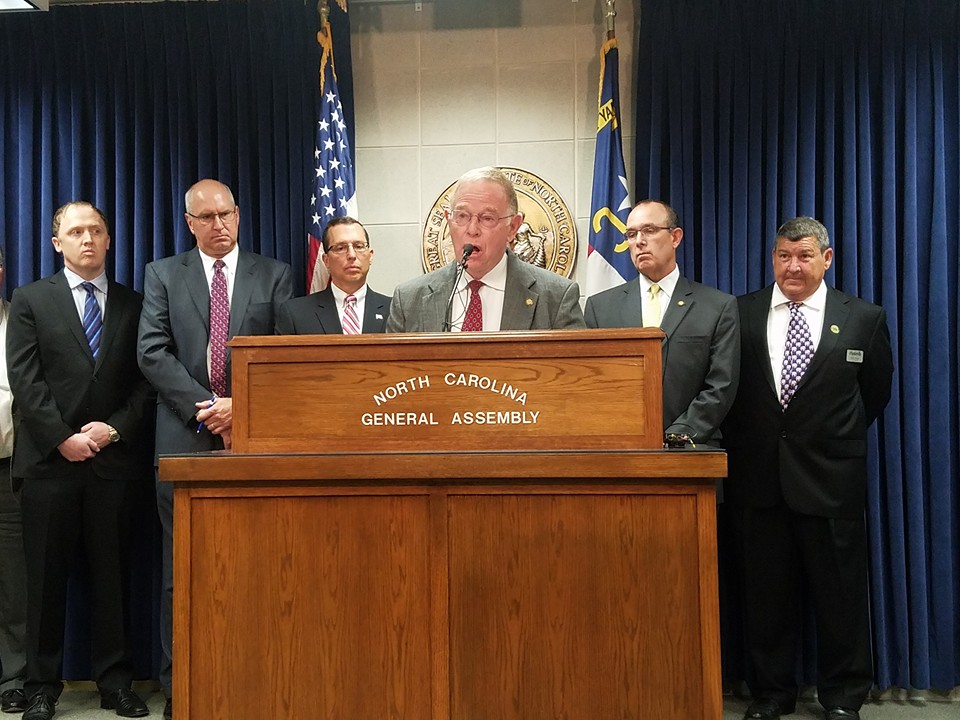 June 15. A score of North Mecklenburg elected officials and business leaders made the 2.5 hour drive to the NC Capitol this morning to collectively voice their opposition to the 50-year, $650 million contract between a Spanish company and the citizens of North Carolina.
Their goal was to offset what Cornelius Mayor Chuck Travis and Davidson Mayor John Woods told NC Sen. Philip Berger in Raleigh on Town Hall Day, purportedly as private individuals.
What the two mayors did was wrong, said NC Sen. Jeff Tarte, the former mayor of Cornelius who led the press conference.
Travis and Woods told Berger, who, as Senate President Pro Tem is the key gate-keeper in the upper chamber, that ordinary folk don't quite understand the toll plan and that they are in a distinct minority.
Among those who stood behind Tarte during the press conference: Huntersville Mayor John Aneralla, Mecklenburg County Commissioner Jim Puckett, NC Sen. David Curtis, racing executive Greg Wallace, Huntersville Commissioners Danny Philips and Dan Boone, Davidson Commissioners Beth Cashion and Brian Jenest, Lake Norman Chamber CEO Bill Russell, Cornelius Mayor Pro Tem Woody Washam, Cornelius Commissioner Dave Gilroy and Payroll Plus owner John Hettwer, who is also a former chairman of the Lake Norman Chamber and the founder of the Lake Norman Executive Board.
A rising star in North Carolina politics, NC Rep. John Bradford, also stood behind Tarte—a less-than-subtle show of solidarity from a former Cornelius Town Commissioner who served on the Town Board at the same time as Travis.
During a dramatic 15-minute Emergency Meeting last night, the Cornelius Town Board voted 5-0 on a Resolution of No Confidence in Mayor Travis. The resolution also asked Travis to resign.
Travis brought his own forces with him, including former Cornelius Mayor Lynette Rinker, who was soundly defeated by Bradford in the Republican House District 98 primary two years ago. Lending her support to Travis as well was former Huntersville Mayor Jill Swain, who was defeated by Aneralla 59 percent to 40 percent in November.
The press conference was organized in short order Monday, Tarte said. "Just think for a minute: We did this yesterday…these folks who are all working folks took time off to drive two-and-a-half hours here, about the need to kill this contract."
Tarte called out the NCDOT for mysteriously accelerating plans to sign the 900-page contract with Cintra, and deep-sixing an independent audit. When he announced plans to defund the project, "the following Monday they were putting out cones."
"How all this shuffling goes on, I don't know," Tarte said, painting a massive bureaucracy hell-bent on consummating a forced marriage with a Spanish bride. "It is a very irrational decision," he said. "They are no longer talking to the facts, but emotionally, they can't let go of it."
NC Sen. David Curtis said there is "overwhelming" support for canceling the agreement, despite what Woods and Travis told Berger on Town Hall Day in Raleigh.
Critics say both abused their positions as mayors to express personal opinions counter to resolutions approved by their boards.
Aneralla said the state has canceled contracts before. He said the state paid $85 million for software that was never used—and $5 million to cancel the contract.
NC Transportation Secretary Nick Tennyson said it could cost $800 million to cancel the Cintra contract, a number Hettwer and Aneralla say appears to have been pulled from thin air.
Tarte said he has enough votes to pass HB954 which would cancel the Cintra contract. It passed overwhelmingly in the House of Representatives two weeks ago.
The question is getting it "calendared," which has much to do with what Sen. Berger thinks.
Hence the almost stunning reprisals against Woods and Travis in particular at town board meetings last night.
"The mayors did not help our case, that we we had been prepping the last two weeks," Tarte said. Cornelius town commissioners are actively discussing how to strip Travis of any powers he does have. Interestingly, Mayor Pro Tem Woody Washam is acting more and more mayoral, meeting in Raleigh with legislators before and after the press conference.
Under the town form of government in North Carolina, mayors only vote to break a tie. Washam already has a vote, Travis does not.