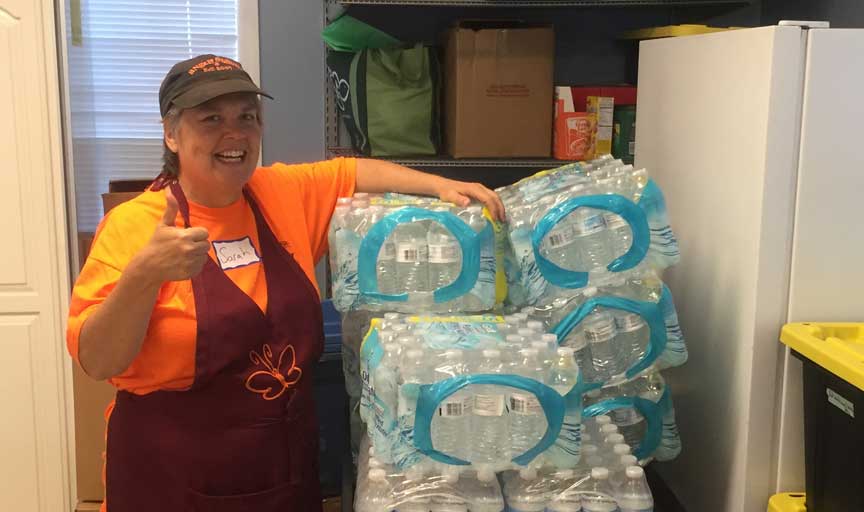 Visit Lake Norman and its Lake Norman hotel partners have created a Voluntourism initiative to give back to the Lake Norman community and make an impact.  The idea originated from VLN's most recent Hotel Power Hour meeting where John Lynch, GM for the Hampton Inn & Suites Huntersville told the story of Angels & Sparrows Soup Kitchen's need for bottled water for their bagged lunch program.  At the conclusion of the meeting, the Voluntourism initiative was born and area hotels were leading the charge to collect cases of bottled water for the lunch program.
To date, 70+ cases of bottled water have been donated collectively by area Lake Norman hotels to Angels & Sparrows Soup Kitchen. Donations were made by the Comfort Suites Huntersville, Country Suites Huntersville, Courtyard Huntersville, Hampton Inn Cornelius, Hampton Inn & Suites Huntersville, Homewood Suites Davidson and VLN.  VLN is also offering anyone a free Lake Norman coffee mug for every case of water dropped off at the Visitor Center.  At the end of July, the program had delivered 8,701 lunches in seven Lake Norman communities, in which families benefit from free and reduce priced lunches at school.
The Voluntourism initiative has also spun off another charitable initiative.  The Comfort Suites Huntersville is collecting school supplies for a local elementary school.  Contact Candice Karriker, Front Desk Manager for pick-ups, drop-offs or any questions at 704-875-6220 or [email protected].