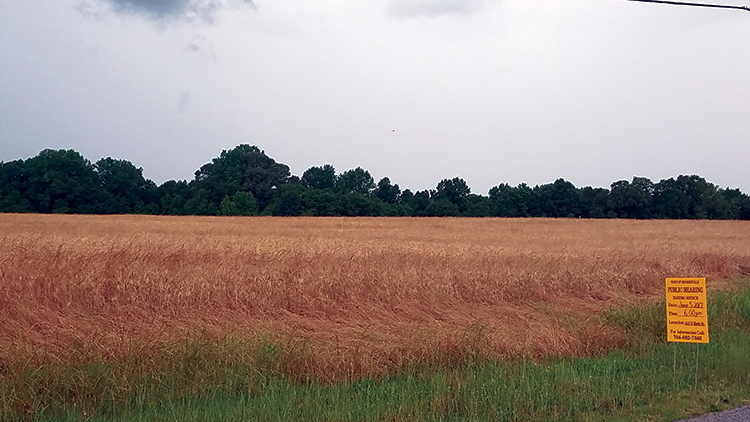 By Kate Stevens. ​A proposed 137-acre mixed-use development in southern Iredell County could bring more housing and commercial opportunities to an area rife with potential but the economic impact on Mooresville and surrounding towns is still unclear.
"It's so early, it's almost uncharted waters," said Rusty Knox, ​a ​real estate broker with Allen Tate Real Estate in ​adjacent ​Davidson.​ With more than 800 new dwelling units, Lake Davidson residents would be closer to dowbtown Davidson and Davidson's amenities than anything in Mooresville.​
He said local elected officials are going to have to play a part in controlling how nearby towns and cities grow. There is a ​"​direct trickle down​" from one town to another..
Plans for the development, named Lake Davidson and located off N.C. 115 and Bridges Farm Road, currently include 115 single family homes, 300 residential condos, 120 town homes, 300 apartments, 65,000 square feet of office space and 65,000 square feet of additional retail space.
The property is not in Mooresville town limits but does fall within the town's jurisdiction of regulating land use and development.
Historically, southern Iredell County was the "no man's land for development" until home improvement retailer Lowe's and Lake Norman Regional Medical Center recently changed the scope of the area, Knox said. There is so much vacant land on the outskirts of Mooresville that is unserviced by water and sewer but available for development, Knox said. "It's almost like they're building an island out there to see if people come," said Knox, who is running for mayor of Davidson this fall. If the development moves forward, "It will be the starter gun for the rest of south Iredell building out," said Knox.
On May 11, the Mooresville Planning Board approved a rezoning request from developer Hinckley Gauvain to rezone the property from R-3 single-family residential to CMX corridor mixed use and NMX neighborhood mixed use.
Before a packed meeting room, local residents concerned with the disruption, the amount of traffic and the environmental impact the proposed development could bring the area spoke against the project during the meeting's public comment period.
A public hearing on the proposed development is scheduled for 6 p.m. June 5 during a Mooresville Board of Commissioners meeting.
Knox is unsure how large an impact the commercial aspect of the proposed Lake Davidson project will have because, historically, past developers have come back to town planning boards to add more residential housing after realizing large retail properties may be unsuccessful.
"Right now, it's Disney World," said Knox, of the Lake Davidson project's current scope. "Hopefully, it's dialed back to some place of normalcy that looks like a subdivision and has some shopping for the residents."
Knox's biggest fear is the development moves forward with zero commercial space. "I don't think building 1,000 houses creates anything but 1,000 houses and 2,000 cars and 4,000 residents," said Knox.
Although Knox's family owns 10 acres of land across the street from this proposed development, that doesn't mean he is a proponent of the plan. He is worried about increased traffic coming off Interstate 77 and clogging the streets of Davidson, he said.
Donna Sintay, broker-in-charge at Keller Williams Realty on Morlake Drive in Mooresville, agreed that the major challenge to the Lake Davidson project is the area's infrastructure needs.
An east-west connector from Langtree Road to N.C. 115 is currently in development to help ease congestion in this part of the county.
While traffic will most likely increase with the proposed project, the construction of town homes, condos, apartments and single-family homes would bring more housing options to the area.
Sintay said she has clients who initially want to live in Davidson but then can't find the type of home they are looking for or realize the cost of the homes is too high there. "If we can give them more options, it just helps them make a more intelligent decision about their future," said Sintay. Multi-use sites with residential and commercial zoning is a "huge draw" trending across the area now, especially in communities where residents can bike or walk to restaurants, shops and other forms of entertainment, Sintay said. "That is definitely the trend," Sintay said. "I see it everywhere."
Mooresville Mayor Miles Atkins said the town is pursuing its vision of a mixture of high-end corporate, office and residential uses designed to reduce vehicle miles traveled. "The current proposed development site is a small part of a larger economic development strategy for the whole peninsula area leveraging the Langtree development and the Lowe's corporate campus heading towards the county line," Atkins said.
Knox, who said he is "pro smart-growth," added that Mooresville, still a partial bedroom community of Charlotte, isn't the only location seeing growth.
The whole metro-Charlotte area is seeing tremendous growth since the 2007 recession shut down new construction virtually across the city. But whether this growth is good for Mooresville is still up in the air.
"I don't know at this juncture that this Lake Davidson thing is the right thing," said Knox. "It could be a good thing for Mooresville. I don't think it's going to be an economic windfall for Mooresville.