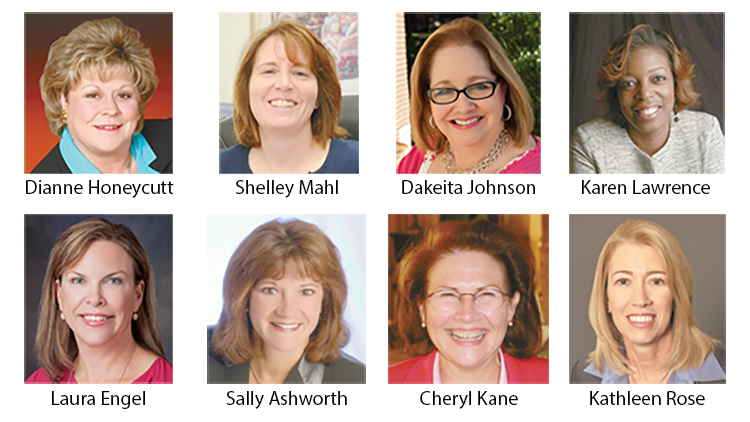 The 2018 judges for Business Today's 14th Annual Top Women leadership awards include women leaders from the worlds of business and politics in Lake Norman and Cabarrus.
All are prior winners and include: Cabarrus County Commissioner Diane Honeycutt; Business Today columnist Cheryl Kane; Cornelius-based Champion Tire executive Shelley Mahl, Cabarrus County real estate agent Dakeita Johnson; events entrepreneur Karen Lawrence; Davidson-based real estate and planning authority Kathleen Rose; Visit Lake Norman Executive Director Sally Ashworth; and Aquesta Bank Marketing Director Laura Engel.
The awards will once again honor the region's most dynamic women in business, community service, education and politics.
The winners will be honored at the 14th Annual Top Women Champagne Reception and Mini Business Expo at River Run Country Club.
The awards have a tradition of recognizing career achievement, community service and impact. Top Women winners exemplify the contributions women have made to business and the community.
"Seeing these successful women year after year shows how much we continue to see women thriving in the workforce, many in jobs that years ago you would not have seen women doing," said Cabarrus County Commissioner Diane Honeycutt. "The Top Women Awards sends a message to young girls that the sky is the limit and you have no boundaries.  Go for your dreams."
Nominees are often owners, founders or partners of small, medium and large companies or nonprofits. The judges' criteria includes, in part, leadership skills, progress in achieving business or personal goals, charitable work, length of tenure with an organization, management of important projects and involvement in major programs and events.
Applications may be submitted online beginning July 16. Applicants are invited to self-nominate. The essay question this year is simple: Define Success.
To be eligible for this awards program, women leaders should be based in the "Golden Crescent," a business region that stretches from Lake Norman to Cabarrus. They should also have a track record that includes impact in their industry, giving back and longevity.