Ingersoll Rand has raised $1.4 million for United Way of Central Carolinas, making the company not only the largest United Way donor in the Mooresville/Lake Norman area, but the largest donor from the manufacturing industry throughout the agency's five-county footprint. Shawn Laskoski is the 2018 United Way campaign chair and an Ingersoll Rand VP.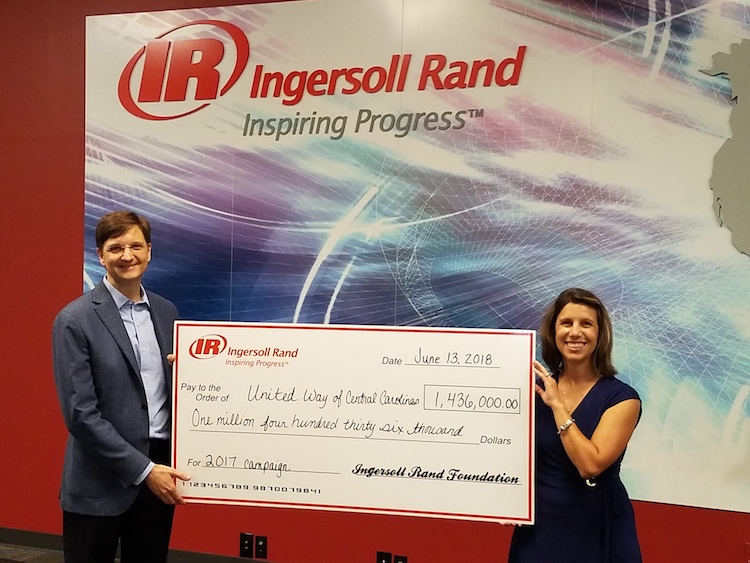 Focusing on education, health, financial stability, and basic needs, United Way works on issues like economic mobility and pressing community needs. More than 400 IR volunteers completed 40 projects as part of the 2017-2018 campaign, including volunteering at Ada Jenkins and serving as reading mentors at Cornelius Elementary.
United Way of the Central Carolinas announced this week it has invested $24.5 million into the community, with $16.3 million going toward the organization's community impact strategy and $8.2 million in donor directed funding. Focusing on improving education, health and financial stability, United Way's impact strategy works to boost economic mobility across the region, while also helping provide a safety net for people and families in need.
United Way will invest in more than 110 local nonprofit agencies and initiatives through the funding provided by generous corporate and individual donors. More than 100 community volunteers helped make funding decisions during a rigorous five-month process to evaluate requests and ensure grants were distributed objectively and aligned with United Way's goals.
Recommendations passed through three levels of volunteer reviews: Community Grant Panels, Community Impact Committee and the United Way Board of Directors.