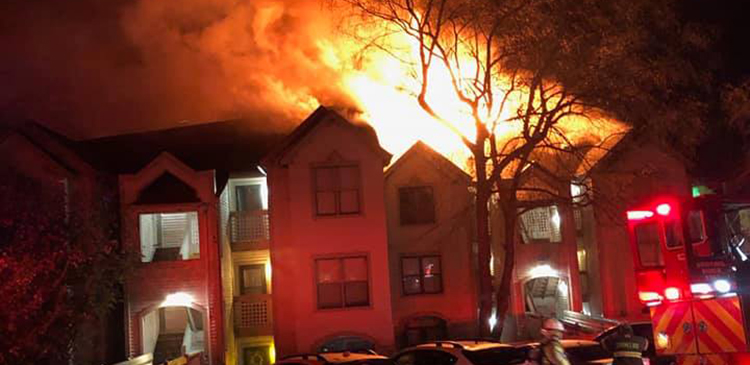 Review your policy before a fire.
It was the phone call that Matthew Platarote, property manager for Cedar Management Group feared the most: Police said that flames were shooting from the roof of one of the buildings he managed. It was the devastating Admiral's Quarters fire in Cornelius.
He was soon on scene.
Miraculously, there were no deaths or major injuries thanks to the quick work of one of the tenants shortly after the fire began at 4:30 a.m.
"I had 18 families with nowhere to live, and we had no idea for how long that would be."
So while he arranged to have the Admiral's Quarters community room opened to accommodate those who were displaced by the fire, he also contacted ERX Restoration to secure the site, help retrieve valuables and begin the clean-up.
"They really worked very well with the fire department and the Red Cross by allowing tenants to go in and salvage what belongings they could save before the building was completely shut and secured by a chain link fence," Platarote said.
For businesses affected by fire, there is no Red Cross.
Platarote, an experienced property management executive, said commercial building owners, as well as tenants, should be intimately acquainted with their insurance coverage.
There may be multiple insurance carriers in any tenant-landlord situation, commercial or residential.
Most small businesses, from a clothing store or restaurant to an advertising agency, should have business interruption insurance. The owner of the business should know how he or she will pay the bills after a catastrophic loss.
It's most likely going to be part of a standard business policy.
All equipment, machinery and furniture should be covered
Liability may be the most important part of the insurance package, because injuries can result in enormous damages. An employee could be hurt rushing back in.
"A commercial tenant should not only pick their rental space based on their physical needs, but also on fire safety, including whether the structure has proper exits, sprinklers and alarms," said Denis Bilodeau, a commercial and personal sales agent at Hood Hargett.
Bilodeau, who is a Cornelius Town Commissioner, said commercial tenants should contact their insurance agent immediately after a catastrophe. The agent will review the policy and confirm coverage with the insurer.

Among the considerations:
• Protecting against further damage.
• Restarting the operation.
• Relocating to another suitable location.
• Replacing inventory, equipment, furniture.
"You need to contact your insurance agent and let your policy begin to work for you. Your business insurance policy will may include additional expenses for operation…as well as lost revenue," Bilodeau said.
In a business condo situation, there is a master policy in addition to the individual business policy. Some master policies call for restoring buildings to the condition just before the calamity, while others will only restore the structure to its first-built condition.
The Admiral's Quarters building, which was more than 25 years old, had no fire sprinklers, but as per local ordinances, new construction will require doing so with a sprinkler system.
"My best advice is to be familiar with the insurance policies which apply," Platarote said.