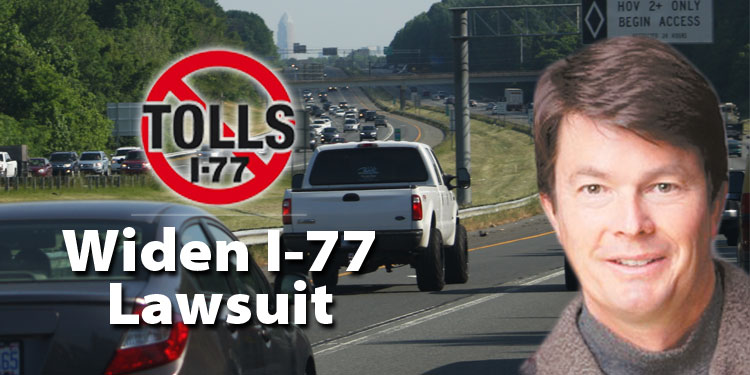 Oct. 6. It looks like the Widen I-77 law suit is moving ahead in the face of substantial legal expenses. Widen I-77, the citizen-based group that has fought the toll lanes for going on three years, has agreed to key milestones in the lawsuit against the I-77 private toll lane project.
"There remains a substantial amount of legal work to be done," said Kurt Naas, spokesman for Widen I-77. "We will take the case as far as our funds allow."
Earlier this year Judge Osmond Smith III denied Widen I-77's request to put a temporary halt to the I-77 toll project. Apparently, the fundamental legal issue is whether the North Carolina Constitution permits the NCDOT to lease roads to a Spanish corporation and make a profit from our commuters.
Widen I-77 has raised more than $60,000, mostly from small donations by private individuals. Naas anticipates needing $30,000 to $50,000 more within the next month to complete the next phases of the legal process.
"When Widen I-77 initially pursued litigation we hoped to raise about $20,000. Because of the amazing involvement of local residents we raised over three times that amount. In addition our law firm has donated thousands of dollars in legal fees," Naas said.
The case, though, is more complex than the group anticipated, which means the legal effort has been more costly. "Instead of a jury trial our case will be decided by what's called a summary judgment. There will be no direct testimony, i.e. witnesses taking the stand. Instead the judge will review written motions, cross-motions and affidavits from both sides and oral arguments in a hearing," Naas said.
The group is looking for local businesses to support the fight against for Cintra, the parent company of I-77 Mobility Partners. Along with the NCDOT, they have inked a 50-year deal to operate toll lanes on I-77. Now, more politicians are joining Cornelius Town Commissioner Dave Gilroy in saying it's a deal that never should have been made in the first place.
Both Naas and Gilroy spoke out against the toll plan as early as 2011.
"Perhaps our last chance to stop this disastrous project is the lawsuit," Gilroy said. "We all need to continue to rally support for our community's incredible grass-roots effort to avoid 50 years of highway tolls on I-77."
Calling Cintra and its Spanish parent company "corrupt," Gilroy said regional and state politicians "have failed us miserably, along with NCDOT."
Unlike a traditional jury trial, the case will be decided by written briefs and a hearing in front of the judge. The legal process is a called a Summary Judgment. Both parties will present their cases via written briefs and affidavits. Due dates are as follows:
Nov 13

:   Widen I-77's  Motion for Summary Judgment
Dec 4

:     Defendant's Response to our Motion
Dec 15

:   Widen I-77's response to Defendant
Jan 8

:     Oral Arguments
If the case fails, Naas said the court will in all "likelihood never entertain another lawsuit on the matter" from anyone.
"At this juncture our best chance to raise funds quickly lies with the business community, and we are sending solicitation letters to businesses who have signed the anti-toll petition," he said.
"We look forward to the actual trial to determine the constitutionality of this project," Naas said. WidenI77.Org is officially a 501(c)3 non-profit dedicated to widening I-77 without toll lanes. Full disclosure: BusinessToday has contributed advertising space to a Widen I-77 fundraiser/auction.
Donations can be made online at wideni77.org or mailed to:  Widen I-77, PO Box 792, Cornelius NC 28031. Checks should be made payable to Widen I-77.