May 10. By Dave Vieser. In a meeting which consumed barely more than one hour, the members of the I77 Local Advisory Group voiced nearly universal agreement to complete the current construction, then to modify the I-77 expansion in Mecklenburg County from two toll lanes to one general purpose lane and one toll lane. The committee has spent several months reviewing a series of options submitted by local residents and officials.
"From a design perspective this was a pig of a project," said Mecklenburg County Commissioner Jim Puckett. "Most, if not all of us, believe we are better off spending a year or two cleaning up the contract mess now rather than being stuck with the CINTRA deal for 50 years."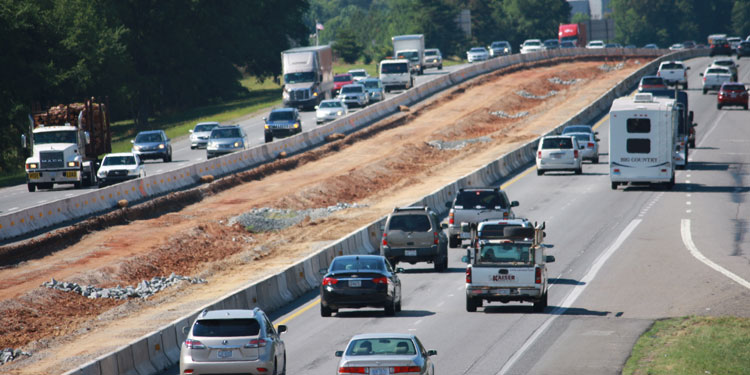 NCDOT Secretary James Trogdon attended the meeting Thursday at the Lake Norman Chamber as well, one sign that Gov. Cooper really is looking for a fix. "This is not our last meeting, but I'm very appreciative of the work done to date by this committee," Trogdon said. "I am now taking the preferences you selected back to Raleigh so we can develop a road map to make it happen."
Trogdon said he planned to have the committee reconvene in late July so they can review the process needed to implement the preferred alterations happen.
Those preferences were as follows:
Complete the current construction, which is estimated at the end of this year.
Negotiate a contract modification which would eliminate one toll lane in each direction between Exits 23 and 28, in favor of three general purpose lanes. One option would have the NC Turnpike Authority take over and collect tolls on the toll lanes, with the intent of using the revenue to pay down debt or contract elimination charges.
Strengthen the shoulder pavement so cars can run on those lanes during peak hours to further relieve congestion.
Evaluate the cost and practicality of building a third general purpose lane across the lake between Exits 28 and 36.
"This is a unique situation," said County Commissioner Pat Cotham. "I'm proud of what our committee members have accomplished."
Several members emphasized that some of the selected preferences, such as hardening the shoulders, would be used while the road was being transitioned from two toll lanes down to one toll lane.
Left unsaid or unknown at this point is what type of travel disruption the work preferred by the committee would mean for delay weary Lake Norman motorists.
Earlier this year, Cooper commissioned a fresh study by Mercator Advisors on the I-77 toll lane project. Several members noted that they were hopeful the governor's administration "would do the right thing." Inaction on the toll lanes was a key reason Pat McCroy lost his bid for reelection in 2016.