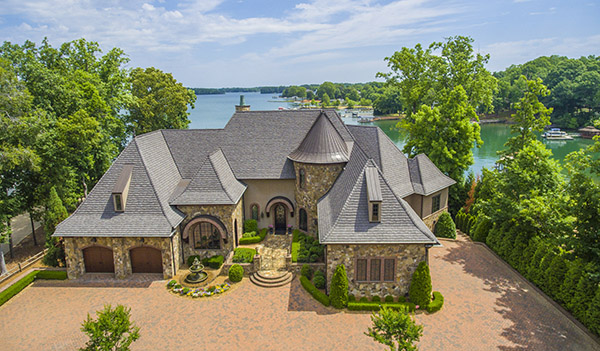 The highest-price transaction in North Meck so far this year is a $4 million deal for a 10,000 square foot lakefront home at 16909 Jetton Road, adjacent to The Peninsula in Cornelius.
Lance Carlyle with Carlyle Properties listed the four-bedroom, five-bath estate. The house, which has a pool, a four-car garage, elevator and wine cellar, also has a covered pier and boat lift. There are automatic retractible Nano Doors—a moving wall system that allows folding, sliding, and swinging door or window panels to be opened and closed in order to create flowing indoor-outdoor spaces. The tax value of the three-quarter acre property is $3.24 million.
Home prices in the Charlotte area continue to climb, according to S&P/Case-Shiller index.
Prices continue to increase at the rate of about 6 percent a year, near the national average. That's not a bad thing as prices soar beyond the means of many people in places like Seattle and San Francisco. Rapidly rising prices make it harder for companies to recruit knowledge workers—a long-term, sustainable growth strategy.
David M. Blitzer, managing director at S&P Dow Jones Indices, said year-over-year prices have increased continuously for five-plus years. Over that time, the price increases averaged 6 percent a year, so the rate of increase is growing.
Price increases this go-around are similar to January 1992 to February 2007 when prices rose 6.1 percent annually.
"With expectations for continued economic growth and further employment gains, the current run of rising prices is likely to continue," Blitzer said.
Increasing employment supports rising home prices both nationally and locally. Seattle had both the largest gain in employment and home prices over the past 12 months. 
At the other end of the scale, Chicago was ranked 19th in both home price and employment gains, while Cleveland ranked 18th in home prices and 20th in employment increases.