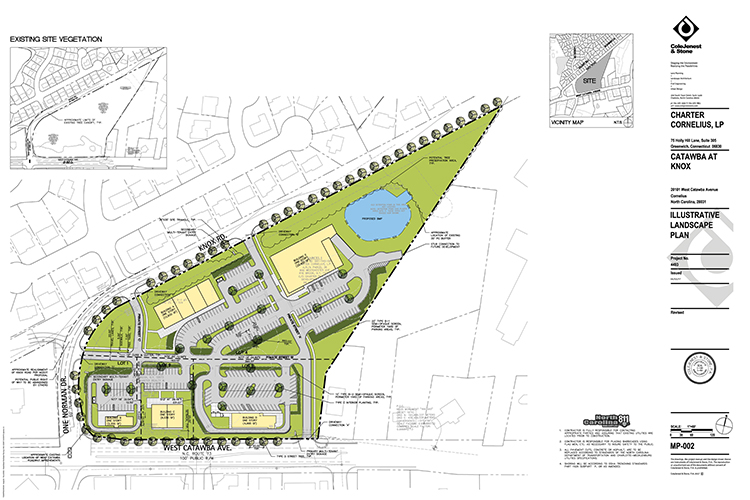 July 17. By Dave Yochum. The developer behind the proposed retail project on 11 acres of prime commercial property on West Catawba has a strong portfolio of high-quality holdings in the northeast, the Carolinas and Montana, with tenants ranging from CVS and Starbucks to Nordstrom and Tesla. Charter Realty & Development, based in Greenwich, Ct., is a real estate investment and development company specializing in retail properties.
The company was ​co-​founded in 1993 by Paul Brandes and Daniel Zelson. Charter has acquired and developed more than 60 shopping centers and freestanding properties comprising nearly 10 million square feet with a total acquisition and development cost in excess of $1 billion.
"This is a​ ​well-heeled team of retail experts with a deep bench and relationships in this arena​," said Kathleen Rose, founder of Davidson-based Rose & Associates,​ a real estate and economic development advisory firm​.​ The site is a prominent piece of highly developable land on a four-lane suburban parkway with limited access.
Charter plans five commercial buildings comprising a total of 48,225 square feet​, with​ three buildings fronting on West Catawba and two facing Knox Road. In between, a private road with access to multiple rows of parking is planned​. The largest building would be 22,500 square feet; there would be a retention pond on the northeast corner of the parcel near Knox Road.
​Co-founder Paul Brandes said it is a "phenomenal project in a terrific location." Charter has held the property for two decades; no tenants have been announced, but plans call for two buildings with drive-up windows. The land alone is taxed on a value of $6.5 million, according to Mecklenburg County records.
"The goal is to make this a 2018 project," Brandes said, explaining that company studies their local markets very carefully to "offer something the community will embrace" when they ultimately complete the project.
"A developer has to be creative and forward thinking," he said, and "proactive in terms of going after real estate that will be there a long time." His theory is to "create a tenant mix that is broad and that will serve the community."
This, in a day and age when some traditional brick and mortar retail is being hammered by online shopping. Brandes sees online and brick-and-mortar retail merging more and more in the future.
It's known as omni-channel, where shoppers have an integrated shopping experience. They can be shopping online from a desktop or mobile device, or by telephone, or in a bricks and mortar store and the experience would be seamless, Brandes explained, resulting in incremental sales increases for the retailer.
The project, now called Catawba at Knox, came up for preliminary review by the town at a pre-development meeting at Town Hall. It actually already appeared on Charter's website as Cornelius Square, under "Our Properties." The flyer for the property says 26,000 vehicles pass by per day. The flyer is on the company web site at: www.chartweb.com.
Real estate attorney Susan Irvin said the proposal currently calls for one anchor in one building, two restaurants and two multi​-​
tenant office/commercial buildings.
​Cornelius Planning Director ​Wayne Herron​ said since the​ first​ article on ​Charter's ​proposal appeared​ on Cornelius Today online​ this week, the town has received ​"​quite a few calls from residents asking that the buffer on the Knox Road side be enhanced as much as possible​.​"
He said Charter should include plan for use of bikes and pedestrian walkways​ and a semi-public gathering place​. He advised that building facades should be the focal point, not a drive-through or a parking lot.
"Based on the input we received today from the town, we will need to sit down with the town staff and determine the best way to address these issues, as much as we can​,​"​ Irvin said.​ ​The next step in the Cornelius development process is setting up the neighborhood meeting.
—Dave Vieser contributed to this story