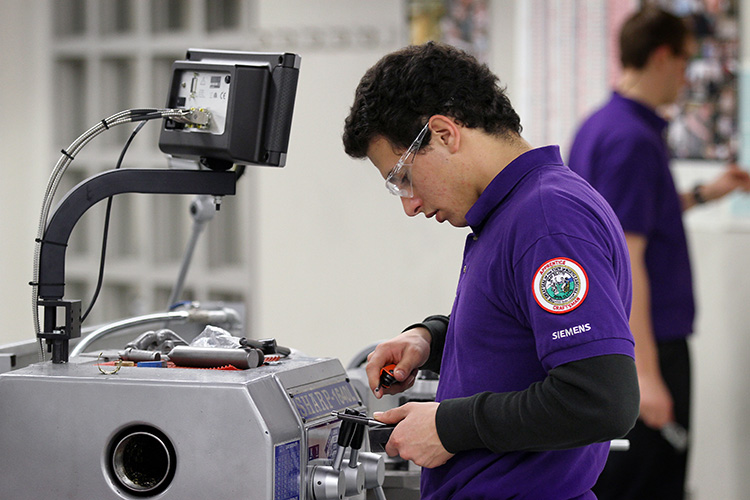 By Erica Batten​. While the question about whether a college education is worth the cost has been looming for years now, colleges haven't been sitting idly by waiting for potential students to decide. Instead, they've strategized on how to attract students and ensure the lifelong relevance of ​higher ​education.
"Simplistic predictions fail to recognize the complexity, resources, diversity and resilience of a sector of society that now educates nearly twenty million undergraduates and graduate students a year," said Goldie Blumenstyk, a frequent contributor to The Chronicle of Higher Education and author of the 2015 book, "American Higher Education in Crisis? What Everyone Needs to Know."
"Today's dire predictions also overlook the adaptations many colleges have already undertaken," Blumenstyk said. These adaptations include the use of data analytics to help students stay on track toward degrees, greater personalization in pedagogy, the rise of online and hybrid classes, and increased enrollment at community colleges, where a bachelor's degree is more affordable than at traditional colleges.
"While we have a lot of students who transfer to four-year colleges and universities, more than one-half of CPCC students come here for education/training for a specific career," said Jeff Lowrance, public information officer and special assistant to the president at Central Piedmont Community College in Charlotte. "That means when they leave here they usually move right into a job."
All of the college's programs have advisory committees of local employers who help ensure CPCC is teaching the skills employers want, said Lowrance. Recently, for example, Novant Health partnered with CPCC to develop a new training program for biomedical equipment engineers: specialists who maintain digital measuring equipment for health care facilities.
The trend toward job training is mutually beneficial for students and employers, many of whom have created training and apprenticeship programs in order to fill "middle-skills" jobs in manufacturing. Graduates of these three- to four-year programs earn an associate's degree, a journeyman's certificate—and a job.
So far, CPCC has graduated more than 150 apprentices who are working with its partner companies, Siemens and Cummins, as well as several other manufacturers. The school is also developing apprenticeships in IT and other sectors.
Job training is crucial. Experts project that by 2020 two-thirds of jobs will require some kind of education or training beyond high school.
But philosophy of education varies from school to school, and many employers expect the well-rounded, critically thinking employees typically produced by liberal arts programs.
"Demands for career-focused training are growing, even as experts argue that the skills of a liberal arts education are becoming increasingly important," said Blumenstyk.
Data from the College Board show that median earnings for those with a bachelor's degree are 65 percent higher over a 40-year career than for those with just a high school diploma. The unemployment rate is about half for degree-holders.
But with student loan debt in the U. S. topping $1 trillion, students must decide whether a bachelor's degree is worth the long-term benefits.
The College Board's Trends in College Pricing 2016 report listed average tuition and fees for in-state students at public universities at $20,090. For private institutions, average total yearly charges are $45,370.
Legislators are working toward helping prospective students navigate the college market in order to make the best return on investment. The bi-partisan College Transparency Act, introduced in May by Senators Orrin Hatch, Elizabeth Warren, Bill Cassidy and Sheldon Whitehouse, aims to modernize postsecondary data reporting in order to provide greater transparency on schools' enrollment, degree completion rates and post-college success while maintaining individual privacy.
A recent survey ​by​ Washington think tank New America found that a majority of Americans believe colleges prioritize their own long-term interests over those of the students attending these institutions. In the same survey, 82 percent of respondents said that community colleges are worth the cost—compared to 61 percent who said the same about four-year colleges.
That means traditional four-year schools, like Davidson College, where a year's tuition, room and board total more than $60,000, must also think more in terms of real-world applications in order to justify the cost of a liberal arts education.
In 2014, Davidson College President Carol Quillen formed the Task Force for Experiential Learning to evaluate how study abroad, internship and other "real-world experience" programs help graduates become problem-solvers who transition easily into global citizenship. The final report, published in August 2016, aims to prepare students not only for employment, but also for service, leadership, and "disproportionate impact."
As for affordability, Davidson pioneered a program called The Davidson Trust, a commitment to meet 100 percent of students' calculated need through a combination of campus employment and grants. The college reports that about 51 percent of its students receive need-based aid.
While Davidson's tree-lined campus evokes a bygone era in which college life was isolated from the rough-and-tumble of the real world, the college's recent initiatives underscore what the modern college market is about. Whether the overarching educational philosophy of a school tends toward liberal arts or job training, competitiveness will depend most on two factors: experiential learning and affordability.