High-price lots are moving fast as high-end buyers look for exactly the right spot to build their dream houses. One lakefront lot in Cornelius—actually two parcels that will be sold as one—is apparently ready to break the $2 million barrier. The property at 20205 Lola Circle is listed at $2.35 million with Lee Ann Miller of Allen Tate and there are already multiple offers on the property. This, for a tear-down.
The property is assessed at $1.03 million—the dirt alone at $875,000, according to Mecklenburg County tax records.
The pricetag underscores the tremendous rise in waterfront values, particularly the largest lots with expansive, unobstructed views of Lake Norman. Racecar driver Denny Hamlin is building a 31,000 square foot house, entirely out of scale with the neighborhood around it, on the site of a tear-down on Mollypop Lane in Cornelius.
Meanwhile, a .44-acre lot at 18205 Town Harbor Road closed Jan. 27 for $950,000. It was listed and sold by the father-son team of Jim and Lance Carlyle at Cornelius-based Carlyle Properties.
The high-end real estate market up to $2 million, has come back.
Reed Jackson, managing partner of Ivester-Jackson Distinctive Properties in Cornelius, says prices in the $500,000 to $1 million range in Cornelius and The Point in Mooresville have climbed 3.6 percent from last year (comparing 90-day snapshots, this year vs. last), rising from $165 a square foot to $171 per foot.
On the waterfront side between $1 million and $2 million, it's harder to quantify.
"You can have a couple smaller older homes on a sensational lot that might sell in the same quarter and that really skews the numbers upward," Jackson said.
For example, a 180 degree view tear down on Weavers Circle just sold for $1.4 million, At 3,100 square feet, the price amounts to $440 a square foot.
Conversely, a back cove larger Peninsula home with a more limited view sold for $214 per foot.
"So taking snapshots of prices per foot in that range can at times be meaningless. It is much more about comparing individual homes, to individual comparables that have very similar characteristics, and that is a much smaller sampling size. Waterfront homes of similar characteristics, views, updates, have seen single digit appreciation since last year," Jackson said.
Showings, of course, are up.
"We're seeing more upper-end buyers looking this year than last year with a big increase in showings in the higher range.  The most popular price point in the upper range is $850,000-$1,000,000, which is where the majority of showings are occurring," says Abigail Jennings, president of Lake Norman Realty in Cornelius.
In Cornelius
A Bobby McAlpine-design home at 19129 Peninsula Point Drive in The Peninsula has sold for $2.2 milion, having been listed at $2.49 million just two months ago by the father-son team of Jim and Lance Carlyle at Carlyle Properties in Cornelius. The 6,000 square foot lakefront home has five bedrooms and 6.5 bathrooms.  It appears to be the largest residential transaction so far this year. The Carlyles also represented the buyers.
º     º     º
A lakefront home on an excellent private point lot on Weavers Circle has sold for $1.4 million after being listed at $1.525 million by Debbie Monroe at Lake Norman Realty in Cornelius. The 3,174 square foot home, built in 1982, could be a major renovation or possible tear-down. Terri Mayhew of ReMax Executive represented the buyers. The house, with a tax value of $1.1 million was on the market 194 days.
In Mooresville
A house at 106 Milford Circle in The Point has sold for $1.42 million after being listed at 1.55 million by Doris Nash of Ivester Jackson. The house, which was on the market for six months, has a lakeside pool and spa. Inside, there is a large safe, a summer kitchen, a wine cellar and five bedrooms in a total of 5,200 square feet of space. Janet Shawgo of Southern Homes of the Carolinas represented the buyers.
In Cabarrus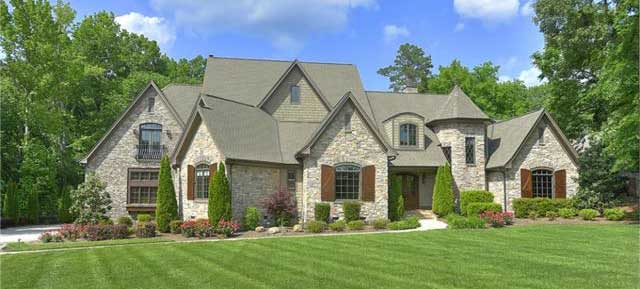 A house at 7200 Three Sisters Lane in Jacobs Ridge has sold for $901,000 after being listed at $1.075 million by Jayne Helms of ReMax Leading Edge. The 5,722-square-foot two story stone manse has a master bath with barrel ceilings, a media room with a wet bar and refrigerator, five bedrooms and a total of five garages. The house was on the market a total of 603 days. Aaron Davis of Cottingham Chalk Hayes represented the buyers.