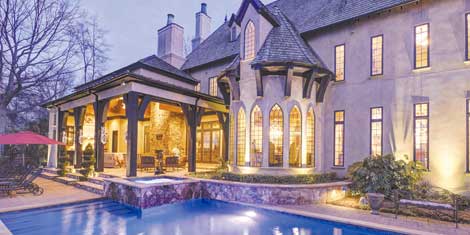 By Dave Yochum. One of the biggest challenges right now in home construction and remodeling is a shortage of labor, says Pat Riley, chief operating officer of The Allen Tate Co. "It's so hard to find talent for remodeling needs," he says.
Apparently the boom in residential construction is soaking up workers fast. New home prices are running 6 percent to 15 percent more than the same resale home, incentivizing builders to ramp up production even more. "There hasn't been such a pent-up demand for new construction in years," Riley explains.
At the same time, picky buyers are getting exactly what they want: Hardwood floors, no carpet, wide-open floor plans. "Everybody wants outdoor fire-pits and fireplaces, outdoor kitchens," Riley says. "If there is a dining room, they want maybe a pillar, no walls. They want to spend money on the master bath, bringing the outside in, and the kitchen."
Accordingly, builders are changing their new model lineups virtually overnight. "It's faster than any time in 44 years," Allen Tate executive says.
Riley was recently elected to a two-year term as chairman of the board of Leading Real Estate Companies of the World, a network of more than 500 market-leading independent real estate firms. The former chairman of the Charlotte Chamber currently serves in leadership roles with Charlotte Center City Partners; Charlotte Mecklenburg Community Foundation; and the Centralina Council of Governments Connect Our Future team.
The drive for perfection is encouraging tear-downs at the upper end of the market. "Everyone scratches their heads when you see a perfectly livable home and you see it being torn down…if you have the means, 'I want what I want,'" Riley said. Indeed, some types of granite are already "out."
Because there is only so much waterfront in Lake Norman, "we're going to see tear downs for the rest of our lives. I only hope it's not out of scale for our neighbors. Are we going to be proud of how we have developed it?"
Baby boomers, Riley says, are either downsizing or renovating in hopes of enjoying their homes for a few more years and then selling at a higher price. "If I am going to sell this, the styles have changed so quickly, I might as well do this myself and enjoy it a little bit," he says. In some price points, the wait is long.
In Lake Norman there is a three-year supply of homes priced at more than $2 million—a healthy market is six months. "When you are talking about a five-month supply between $1 million to 2 million, that is an under supply," Riley says, explaining that only about 6 percent of the total population can afford a home priced above $750,000.
Almost half the population buys at $250,000 and under. And the supply of homes in Lake Norman is only three months, encouraging multiple offers. (The supply of homes priced  from $600,000 to $1 million is six months.)
But Riley says the Charlotte luxury market is still more local than global. "As far as money coming in from out of the country, the reality is it's Seattle, San Francisco, San Diego, Florida, New York. When you really look at the map, yes, we're part of the market…but it's not like the others. Charlotte's luxury market is mostly self-grown, wealthy coming in from the Triad and Triangle. Most of our luxury is not coming in from international."
Charlotte: Tabula rasa – HOT lanes, light rail needed
Charlotte is growing so quickly, "we're building it…we get to create, create, create," says Pat Riley, president and COO of Allen Tate. He hopes that, a generation from now, people will say, "gosh they planned ahead, they have a great transit system, they have their rail lines, the outer belt."
Having the opportunity to plan the future means you have to be tough, he says.
"Our challenge is we are becoming global, the number of international companies is climbing every year…we are global and moving the freight out…5,000 more trucks a day.
"The airport is what's taking us to the dance and what is keeping us at the dance. We are the 11th most recognized region in the world…a lack of union, connectivity, great institutions of higher living, four seasons, mountain and beaches…no one is feeling sorry for us," he says.
Will continue to grow, the former chairman of the Charlotte Mecklenburg Public Schools Foundation says.
"We have the privilege of creating a region and a city. We can learn off Atlanta, Nashville, learning off of other cities and making sure we do it right," he says.
"Light rail between Charlotte and Lake Norman has to get done," Riley asserts.
"Until we get light rail, bottom line is we have to move cars," he says, explaining that the tolling plan for I-77 will help move the additional 30,000 people who are arriving in Mecklenburg every year for opportunity.
"I choose to use the lane, and its costs me, I make that choice, whether it's a lane you pay to use, its part of the choice and freedom," Riley says. "If we don't wake up, all this economic development, you won't have to worry about selling million-dollar homes if people stop coming."