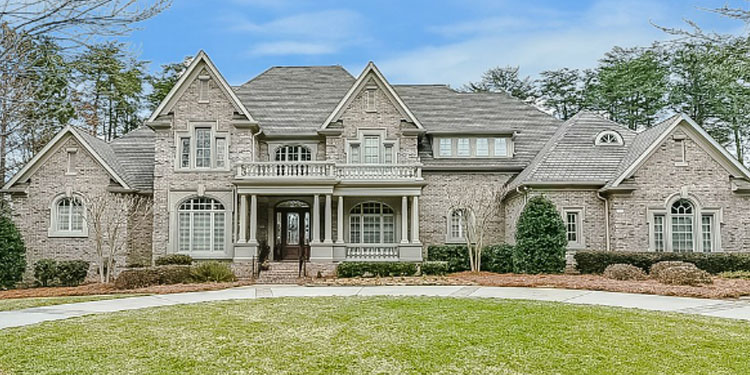 Home prices are still climbing in the Golden Crescent, but selling a swanky abode always was and always will be best left to the pros. For one thing, it takes stamina to sell homes that cost six, 10, even 20 times the cost of the average North Carolina home.
Abigail Jennings, president of Lake Norman Realty, said there was is a 12.8 month supply of homes priced between $1 million and $2 million in October in Lake Norman. A five-, six-, seven-month supply is considered "balanced" between sellers and buyers.
Days on Market, though, continues to drop in all price ranges under $2 million, with with a 23 percent decline in DOM overall.  "In the $2 million-plus range, DOM has increased. However, the inventory has also grown substantially in this price range with a 20 percent increase in new homes over $2 million coming on the market in the past 12 months," Jennings says.
In light of the supply, it means more than a fluff and dust is necessary if you're ready to sell your castle.
"Buyers want less square footage, a perfectly upgraded house and seem to care more about this than the view," says Dixie Dean, a luxury specialist with Allen Tate in Lake Norman.
While waterfront sellers built enormous homes on spectacular lots in the 1990s—and want buyers to value the size and view as much as they did—that's not always the case.
"We have numerous high-end homes available on fabulous pieces of water, but because they are dated, which translates to 'project,' they are being passed over," Dean says.
Economists say the prognosis is good for the higher end, partly because of steady in-migration and partly because of robust efforts by economic developers, business recruiters and chambers of commerce.
In Charlotte, home prices rose just under 5 percent in August, about the same as July, according to the Case-Shiller index.
Overall, there are 107 homes priced at more than $500,000 in Lake Norman, with 27 priced at more than $1 million. Reed Jackson, managing partner at Cornelius-based Ivester Jackson Distinctive Properties, says the numbers are "very healthy" for this time of year and comparable to last year.
"A fairly significant number of out-of-state luxury buyers continue to travel in to evaluate properties, corporate relocations are contributing to this activity, much of which points to continued sporadic action through the holidays and a likely solid start to 2016 in mid-January," Jackson said.
In Denver
A 6,885 square foot home at 8343 Norman Estates Drive has sold for $1.275 million after being listed at $1.475 million by Sheri George of Lake Norman Realty. The lakefront, French country house, which was one the market for 162 days, has 236 feet on the water, overlooking a large, open quiet cove. Tax value is $1.48 million. Charles Knox, with the Knox Group in Huntersville, represented the buyers.
In Cornelius
A waterfront house at 19425 Peninsula Shores Drive in The Peninsula has sold for $1.825 million after being listed at $1.987 million by Dixie Dean of Allen Tate. The lake level of the six bedroom, 6.1 bath home features a bar, bedroom, two offices and a media room as well as an exercise room. Julia Bumgarner of Keller Williams represented the buyers. The tax value of the 7,500-square foot house is $1.85 million.
In Mooresville
A 3,887-square-foot house at 108 Teakwood Lane in the Sailors Lair subdivision near Exit 31 has sold for $1.175 million after being listed at $1.248 million by Mark Zoltanski of Z1 Realty. The lakefront house, which has bamboo cabinetry, wide plank flooring and a floating staircase,  has a tax value of $988,000. Tracy Greene of Ivestor Jackson Distinctive Properties brought the buyers to closing.
---
Hot Properties is all about the deal. If you're an agent with a high-end, closed deal, usually $750,000 and above, let us know. Email the editor, Dave Yochum, at [email protected] or call 704-895-1335.