Feb. 21. The trial previously scheduled for defendants Marlin Hershey and Dana Bradley on March 13, has been moved to May 1 in the courtroom of Judge Frank Whitney.
According to an indictment handed down by a federal grand jury in April, from approximately 2009 to 2021, Hershey and Bradley, both Cornelius residents, allegedly induced people to invest millions of dollars in unregistered securities offerings, promoted by the defendants through Huntersville-based Performance Holdings and other entities, including Performance Retire on Rentals, Distressed Lending Fund, Moteng Funding and Southeast Lot Acquisitions, among others.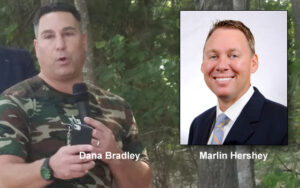 The defendants say they are innocent. Bradley's attorney, Chris Fialko, previously said the "government does not understand what happened and drafted an inaccurate indictment, and we look forward to the common sense and wisdom of jurors to get it right."
The charges are only allegations. The defendants are presumed innocent until proven guilty beyond reasonable doubt in a court of law.