By Kate Stevens. If you thought the roads seem more crowded or that new neighborhoods are sprouting up faster than ever, you're right. Two studies released this spring have shown the Charlotte metro area is one of the most popular destinations for interstate relocations.
Between 2010-16, four counties in the Charlotte metro area—Mecklenburg and Cabarrus counties in North Carolina and Lancaster and York counties in South Carolina—were among the 100 fastest-growing counties in the country, according to data released by the Charlotte Chamber of Commerce.
And, in a separate study by lawn care company LawnStarter, the North Mecklenburg towns of Cornelius, Huntersville and Davidson were included in the top 10 fastest-growing suburbs of Charlotte.
Such rapid growth isn't a surprise for the local municipalities in these studies.
Kannapolis City Manager Mike Legg said the city has been preparing for growth during the past 15 years as less land to develop in Charlotte and Mecklenburg County becomes available.
"It's no real surprise when the numbers fall the way they do," Legg said.
Kannapolis is in "the next wave of high growth" as more and more people travel outward from Charlotte, the closest major urban job creator and driving force of the area's growth, Legg said.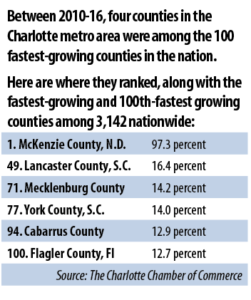 'Drowning in success'
Davidson Town Commissioner Brian Jenest credits the visionary leadership of town officials starting in the early nineties who set development limits that would help the town grow but keep its small-town, collegiate charm.
"We're sort of drowning in success," said Jenest, adding the town's population has tripled to around 12,000 people over the past quarter-century.
According to the Charlotte Chamber of Commerce study of 3,142 counties, Lancaster County, S.C. was ranked as the 49th fastest-growing county with 16.4 percent growth in population from 2010-16; Mecklenburg County was ranked 71st with 14.2 percent growth; York County, S.C. was ranked 77th with 14 percent growth; and Cabarrus County was ranked 94th with 12.9 percent growth.
Lancaster County's population increased from 76,956 in 2010 to 89,594 in 2016; Mecklenburg County's population increased from 923,326 in 2010 to 1,054,835 in 2016; York County's population increased from 226,923 in 2010 to 258,526 in 2016; and Cabarrus County's population increased from 178,581 in 2010 to 201,590 in 2016, according to the data.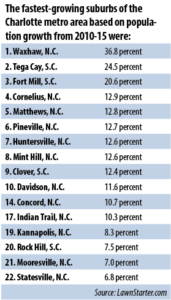 The No. 1 fastest-growing county in the country was oil-rich McKenzie County, North Dakota with a 97.3 percent growth in population from 6,398 in 2010 to 12,621 in 2016, according to the data.
Local officials have tried to stay ahead of the growth and the strains a larger population places on infrastructure.
New approach to infrastructure
Huntersville Mayor John Aneralla said the town is continuously adjusting to the influx of people living and working there. With a population of around 60,000 people, the town is already larger than 47 counties in the state, Aneralla said.
With a 12.7 percent increase in population from 46,782 in 2010 to 52,704 in 2015, Huntersville placed as the seventh fastest-growing Charlotte suburb, according to a study from LawnStarter, a startup that connects homeowners with lawn care professionals.
Aneralla said the town has focused on trying to keep ahead of its infrastructure needs.
A new traffic impact analysis ordinance put into effect this year requires developers to make substantial improvements on larger town projects either alone or in partnership with the town, Aneralla said.
Previously, developers were required to take on smaller improvement projects but, with the town's residential and business population booming, "We think that's the way to go because there's just not a lot of little improvements that are needed anymore," said Aneralla.
If all the housing developments already approved come to fruition, the town has the potential to add another 15,000 residents, Aneralla said.
Affordable housing choices, low taxes and the proximity to Charlotte have all contributed to the town's population increase, he said.
The town has also attracted foreign corporations including Swiss manufacturer Oerlikon Metco, an end-to-end advanced component company opening a $62 million-facility off Interstate 77 at The Park-Huntersville, an office and industrial park with 1 million-square feet of space.
The corporation will provide 93 jobs over the next five years.
Aneralla said he hopes to announce other international corporations bringing jobs to the town soon.
No drive-throughs make people talk
In Davidson, which scored as the 10th fastest-growing Charlotte suburb on the LawnStarter study with an 11.6 percent increase in population from 2010-15, growth has come at a pace town officials have limited and directed with stringent development requirements, Jenest said.
For instance, town ordinance requires every commercial building in Davidson to be two stories with parking located behind the building, Jenest said. This allows for a more efficient use of space with an eye towards future growth, he said.
No drive-throughs of any kind are permitted for aesthetic purposes but also to encourage interaction with community-members inside the business, he said.
For residential development, projects of a certain size have open space requirements of 40-50 percent, he said. Residential streets are required to be connected to other thoroughfares to reduce the need for four-lane roads with faster traffic.
Residential neighborhoods share space with commercial businesses that are easily reached by not only car but by foot and bicycle, he said.
These selective requirements slowed development down naturally, Jenest said.
"It wasn't so much to keep development out, but it was a way to say 'This is who we are,'" Jenest said.
As a result of these controls, the town has seen property values sky-rocket over the years, Jenest said.
The challenge for Davidson is to retain its small-town character while continuing to grow, Jenest said. "That is really, really tough because every projection says we're going to go to 25,000 or 30,000 people in the next 25 years," Jenest said.
That is a scary thought for some residents who may not want to see such growth, he said. But without growth, property values stagnant and businesses choose other towns to locate, Jenest said.
While some Kannapolis residents may not be happy with the extra traffic that growth brings, Legg said these people would be also unhappy if the town failed to grow.
Most residents "see the positive aspects of growth," said Legg. "That usually far outweighs the negative for most people."
Officials in Kannapolis have been making strategic investments that will encourage smart growth, including road improvements and utility expansions, to attract more people, Legg said.
After all, retail, restaurants, entertainment options and parks follow more rooftops, he said.
In an effort to facilitate growth over the next 20 years yet preserve the town's 150-year history, Kannapolis is embarking on an ambitious downtown revitalization project to restore old buildings and construct a new baseball stadium for the minor league Intimidators; residential units; retail space and a performing arts center.
"That's the kind of thing that communities are exploring," Legg said. "How can they set themselves apart? Those who want growth and we are one of them."
Growth isn't stopping
And what of the future?
If these trends continue, the Charlotte metro area should expect to see more growth over the years.
The area's low cost of living, low taxes, a lack of unions and a moderate climate near a major metropolitan city providing entertainment and jobs will keep newcomers arriving over the years, said Pat Riley, president and CEO of Allen Tate Companies, a real estate company based in Charlotte with 46 offices from Raleigh to Greenville, S.C.
People even came to the Charlotte metro area when the economy wasn't so great starting in 2007, he said.
"They came here right through the recession," Riley said.  "People are coming here without or with jobs."
But to be ready for the growth that is to come, the city needs to continue with plans to solve problems regarding transportation, traffic and providing water and power to surrounding counties, Riley said.