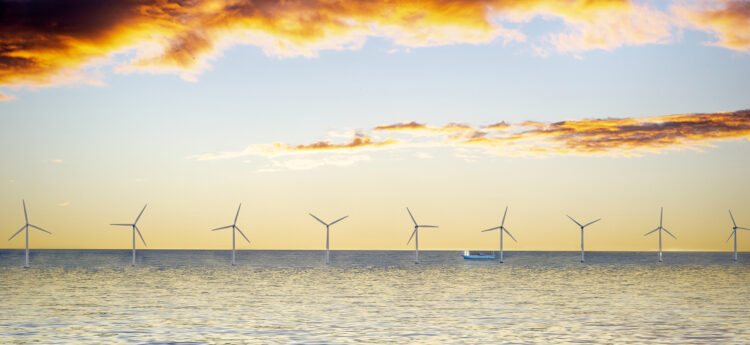 June 9. By Dave Yochum. Hoping to provide power to 2.3 million homes by 2040, Gov. Roy Cooper this morning announced ambitious new targets for offshore wind energy development as part of a transition to a clean energy economy.
"Offshore wind power will help North Carolina create jobs and generate economic development while helping us transition to a clean energy economy," said Cooper. "North Carolina's national leadership in clean energy and manufacturing plus our highly trained workforce create a strong business environment for offshore wind supply chain and manufacturing companies."
The newly announced targets are 2.8 gigawatts of offshore wind energy by 2030 and 8 gigawatts by 2040.
In addition to creating economic benefits across North Carolina, the development will help achieve the NC Clean Energy Plan goal of a 70 percent reduction in power sector greenhouse gas emissions by 2030 and carbon neutrality by 2050.
Economic development
Executive Order No. 218 highlights the economic and environmental benefits of offshore wind and directs actions to help North Carolina secure the jobs and economic development.
Cooper outlined a $140 billion investment over the next 15 years to develop projects up and down the North Carolina coast.
Wind czar
The NC Department of Commerce will name a clean energy economic development coordinator and establish the NC Taskforce for Offshore Wind Economic Resource Strategies (NC TOWERS).
Cooper is also directing several state agencies to identify point people for offshore wind and calling for quarterly meetings of the NC Offshore Wind Interagency Task Group.
Wind energy: A blow to fossil fuels?
According to a New York Times article, renewable energy sources are set to account for nearly 21 percent of the electricity the United States uses for the first time this year, up from about 18 percent last year and 10 percent in 2010.
"This coordinated approach to developing our offshore wind supply chain will bring new jobs to North Carolina for generations to come," said NC Commerce Secretary Machelle Baker Sanders. "From building out the supply chain, to installing equipment, to operating the wind facilities, North Carolina's manufacturers and workforce are well positioned to play an integral role in the entire East Coast market, not just for projects directly off the state's coast."