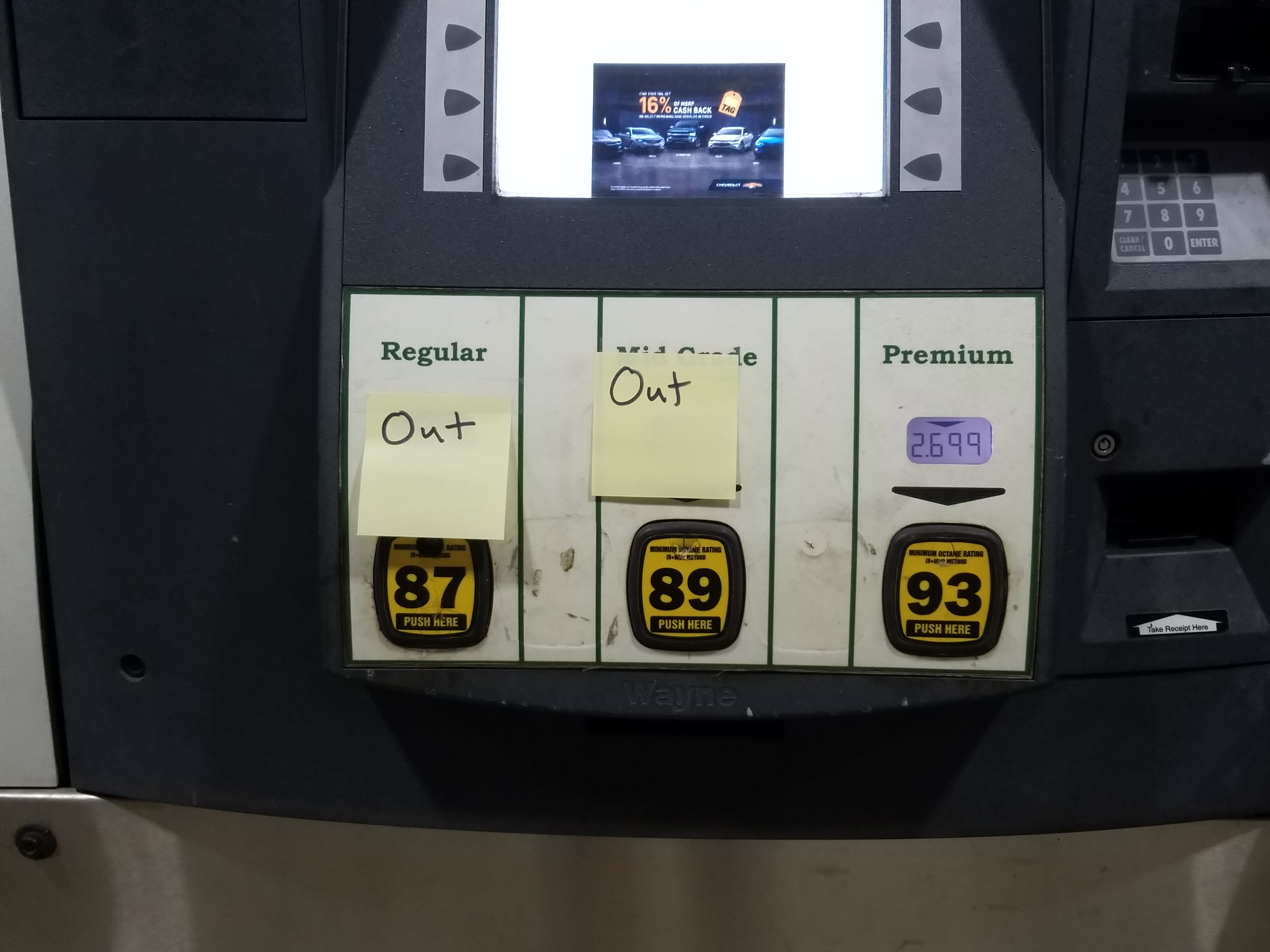 Sept. 19. By Dave Yochum. UPDATE 11 am. Tom Kloza, a nationally known oil industry analyst, says North Carolina, South Carolina, Georgia and Tennessee are "Ground Zero" for what looks like a possible two-week interruption in the flow of petroleum products northward out of Alabama on the Colonial Pipeline.
"It will be on for a couple of weeks," Kloza said of interruptions. Motorists aware of the gas shortage are going ahead and filling up their tanks, but there appeared to be no waiting in Cornelius Monday night. Cashion's was out of regular and mid-grade in downtown Cornelius.
Kloza compared the interruption of flow of gasoline to a "big air embolism headed to the Southeast."
"Metaphorically what would be the gas system aorta just got stepped on, sorta," he said. "I hope it gets restarted in a couple of days."
Meanwhile, gasoline prices have shot up nearly 20 cents for a gallon of unleaded gasoline. Cornelius resident Sheila Perry filled up her tank Monday afternoon even though her car's was half full, "just in case the price increases later this week."
There are reports of gas stations shutting down temporarily in some parts of the South.
The Colonial Pipeline runs through Birmingham, Atlanta, Charlotte and Greensboro, before ending in Linden, N.J. The company has mobilized a coordinated response effort with federal, state and local agencies; it is building a bypass around the breach.
"There may be a lot of bagged pumps, but it is not a long-term trend," Kloza said. "There will be intermittend problems farther from the coast," he added, explaining that gasoline can be transported by boat to coastal cities.
Kloza is co-founder of Oil Price Information Service, a comprehensive source for oil pricing and information.
He said Colonial is known for running its operations "with integrity…this too shall pass."
One of the big questions, though, is whether airports be affected. Kloza suspects they won't based on Colonial fixing the breach. Concord Regional Airport administrators have been in "constant contact with our fuel supplier" monitoring the situation. "We do not anticipate any impacts at this time," a spokesman said.
Gov. Pat McCrory activated North Carolina's State Emergency Response Team to coordinate with counties regarding fuel needs as Colonial Pipeline officials work to fix the pipeline.
"I continue to warn motorists to be on the lookout for price gouging," said McCrory. "We are taking steps to protect consumers and ensure that fuel is continuing to flow into the state. To help ensure adequate fuel supplies, I have instructed state agencies to consider options to limit fuel use, including curtailing non-essential travel for state employees."
McCrory was briefed by state energy and emergency officials today and discussed short-term conservation measures until normal fuel flows are completely restored.
The governor said the state's first priority continues to be ensuring that adequate fuel is available for first responders and emergency officials. Meanwhile, the company continues to use another line to offset the shortage due to the line with the leak. Colonial continues trucking and re-supplying gasoline to the areas that need it.
Colonial said it expects to have the pipeline bypass built by mid to late week. Upon completion of the bypass, it will take several days for fuel flow levels to return to normal, Kloza said.